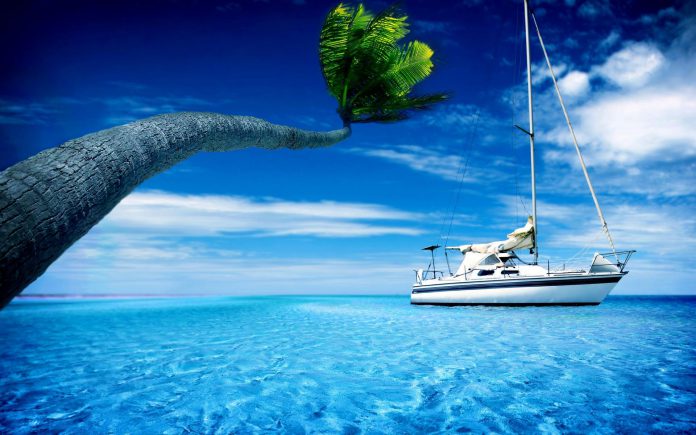 People
Life of a Chief yacht stewardess : Dream job or nautical nightmare?
Travelling the globe on a luxurious yacht…We had a talk with Mrs Jovana Spaic, chief yacht stewardess…About sailing, working, hard working ….
Your job has a glamorous image. Is working on a luxury vessel more challenging than many might imagine?

Yacht, millions, glamour,  luxury, journey. .are only few synonyms that people are connecting with this job. It's a life style..
Not an ordinary job, and if you would like to live it, you have to be a multitasking girl/boy with strong attitude, discipline and lot's of positive energy. In real life, it all about organization, cleaning, ironing, and serving! Still sounds glamorous!? ? And the most important, BE DISCREET AND CONFIDENTIAL!
Your working days are different from other hospitality jobs ?
All yachts are different! Different organization, different rules.
The most important is for who you work for! Who are the owners! Where are they coming from? Is their culture much different then yours? Are you going to be able to understand their needs and to go beyond expectations? Are they gonna treat you with respect!?
The captain is having a very important roll on the boat. He is equal to God. You have to listen to him blindly (like it or not). Dealing with the captain is a good exercise for your mind strenghts and can be challenging for your personality. Can you keep quiet when you strongly disagree with him, even if you are about to scream!?
Your life on a yacht mostly depends on him…so it can be a fairytale or the opposite.
Can you describe us a normal working day on the yacht ?
When the guests are on board, all depends on their habits. As soon as you get to know them, and learn all their preferences, everything becomes easier. Then you are ready to make a plan for day.
Since all the guest are different, your working hours are different as well.
Usually,  day starts at 8am. Guests are still sleeping.  I'm checking the boat (room by room) and starting with cleaning. Dust, mirrors, floor, setting up cushions..After checking inside, I have to inspect outside area as well…tables, ashtrays, cushions, swimming towels,  sun cream, bottles of water…
Coming back to the pantry/galley. Preparing fresh juices…watermelon, melon, kiwi, raspberries..Setting up the table for breakfast. When the guests are awaken, second stew is joining you. Together you are serving coffees, juices, breakfast..It's already time to check their rooms. I usually stay with the guests while the second stew is setting up the beds, cleaning bathrooms, picking up the laundry..
Clearing the breakfast, put everything in the dishwasher, starting the laundry machines..This is only the first quarter of the day.  In season, you are approximately 18h-20h in service. You really need to have a lot  of energy, to keep your mind fresh and to have the most beautiful smile on your face (every day). ?
How many weeks you spend on the yacht during 1 year ?
Contracts can be permanent or seasonal. Depends on the owners. Mine is permanent and the yacht is my home. I'm there every day in a year! ?
Crew have their own space. "Dining room" is a place called "Crew mess". This is the place where we are watching TV, having our meals. On "my" boat, there are 3 cabines, and in every cabine there are 2 crew members. Your beds are one on the top of the other, space in between is tiny. The bathroom has everything you need, just the space is small. There is no fresh air. Only AC! You need some time to adapt.
Do you have time to visit the cities where you are sailing to ?
Definitely you have opportunities to see and visit most of the towns. If the guests are on board,  the best way to "escape" in a small tour is to go out and do provisioning. If you are lucky, like we were, you will have some time in between the groups, and have opportunity to visit the most expensive destinations..Monte Carlo, St Tropez, Monaco, Cannes, Sardinia. ..then your life gets a glamorous touch! ?
What does a superyacht stewardes do without guests on board?
You finally have time for yourself. Working hours are usually from 8h until 17h,  after that, it's time for you. Exploring new cities in your surrounding, shopping, restaurants. .all that you wish for. After the season you have enough money to treat yourself as a Queen!!!
Don't you struggle with being away from your family ?
As per contract, you are allowed to take one month vacation. If you have flexible owners, you will be able as well to escape for weekend or a week…It's all about good communication and organization. My luck is to have my husband working with me, so part of my family is always here. We can manage everything together.
Can you tell us something more about the yacht you are working on ?
A 37m yacht is a huge space. Regarding interior, we have the Dining room, Salon, Master room, 4 guest rooms, bar..Outside areas contain 3 decks with dining tables, sofas, sun beds,  jacuzzi, water toys…Its a monster.
Interior is designed up to newest modern standards. Marble, gold, natural wood, leather..It's a very responsible job to maintain everything properly and to be careful and nothing to get damaged. All interior is very sensitive with high tech technology. Armani bed sheets, Hermes..it's really all about luxury and quality.
In general people think Yacht stewardesses are earning a lot of money, are they right?
As you are at the service 24/7, the job is well paid. Again, all depends of the owners and type of yacht. Salaries are staring from 2500€ up to 6500€, depending of your experience,  qualifications, size of yacht. As well, you will definitely get a bonus for a well done job. You can start saving for school/apartment or you can invest in unforgettable memories!
What is the strangest thing you ever served on board ?
 There are no strange things on yacht. For us everything is "normal" and very confidential. ?
I already see readers dreaming about your job…Tell us, how to get a job as a yacht stewardess?
The best way to get a job is through recommendations. If you have no experience, and you have a friend in the industry, that's the golden opportunity. There are agencies where you can apply. You just need to wait for the perfect boat / job to appear.
As well, you can print out your CV and visit marinas. Go from boat to boat offering your services. Adventage is to get the opportunity to show who you are, how do you look like and if you get lucky to have interview with the captain on the spot. At the end of the story, its all about luck…
This is definitely a job for all people wich likes adventures, changes and who would like to challenge themselves. It's a lifetime opportunity! You can learn so much about yourself and develop abilities that you didn't even know you have!
Thanks !