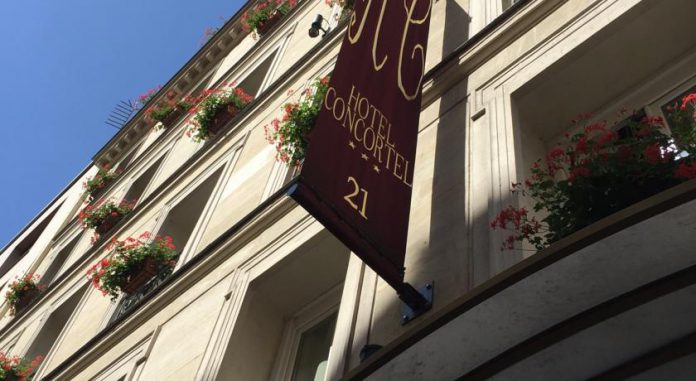 In the middle of Paris we found this very charming hotel 'Concortel', managed  by Mr Eric and his staff. If You are going to Paris, please take a look at this accomodation…
Mr Eric, You have 46 rooms, right ?
Yes, we have 36 rooms (size between 12-25m2) and 10 suites (size ca. 30m2)


Your hotel is situated in the touristic zone of Paris ?
Yes our accomodation is situated in a world famous shopping zone where You can find Le Printemps and Les Galeries Lafayette. As many of your readers will know these places from tv series or famous movies. This all only a few minutes away from 'Place de la Madeleine' and "Rue Faubourg" or "Saint Honoré".
Your hotel is more booked by business men visiting the capital of France ?
Yes, about 75% of our clients are business people coming from all over the world to do business in Paris…This week for example we had the Paris Fashion week…

The hotel is close to metro or train stations?
The nearest metro stations are Madeleine – Concorde – St Augustin – Havre Caumertin and Saint Lazaire
Express lines are :
RER  Ligne A :   Auber direct for Disneyland and La Vallée Village and Paris La Défense        RER Ligne E :   Haussmann St Lazare
Gare Saint Lazare :        Direct line for  Normandie and Castle of Versailles
We are here in the city center of Paris but it's so quite and peaceful around here, this is very rare to find in Paris, no ?
Yes we are located in the center, our guests have all the nicest places of Paris very nearby but this is here a real quite oasis…Here you can rest peacefully after a busy day in Paris.          
Which are the tourist attractions that we kind find at a maximum distance of 5km from the hotel ? 
Museums : Le Louvre and Musée D'Orsay is less than 15 minutes walking.
Famous shopping spots :  Printemps – Galeries Lafayette – Fnac – Apple Store ( Opera)
Luxury stores :    Hermès- Longchamp- Cartier-  Tods- ETC …
Best Restaurants : Lucas Carton- Fauchon- Lafayette Gourmets- Le Lazare etc…
If You can choose 1 place in Paris you want every visitor to see, what would this be ?
Definitely Le Louvre museum !
Do you still feel the effects of the terrorist attacks in Paris ? I feel very safe now in Paris..
Well Paris became less attractive of course at the moment of the attacks but already now France will be more and more attractive again, more than it was before.     
Do You have new developments with the hotel for the near future ?
We will renovate the hall and patio. After this renovation we will have a room with a small kitchen to attract guests who want to stay for a long time in our hotel.
Thank you very much for your time !  
Hôtel Concortel *** 21 rue Pasquier  F 75 008 Paris France
Tel: 33 0 1 4265 4544  Fax: 33 0 1 4265 1833
E-mail: concortel@wanadoo.fr 
Homepage : www.hotelconcortel.com
WIFI: free hotel network in the room and Lobby. Business center in the lobby.
Facebook : http://www.facebook.com/hotelconcortel