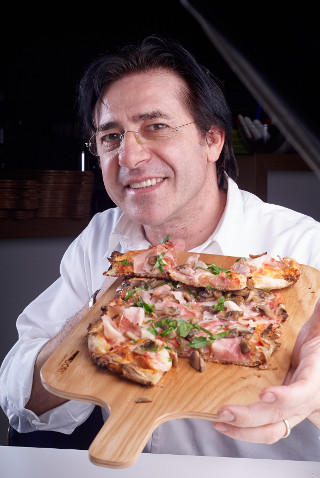 Pinzeria by Bontempi – is a new project in Moscow (Russia) of the famous Italian chef Valentino Bontempi. Are You a frequent traveller ? Going to Moscow ? Eat this !
The concept of this restaurant is unique. The chef has decided to make a restaurant with mix of good food, Italian atmosphere and reasonable prices.
In the menu you can find a variety of amazing dishes : salads, soups, meat and special offers from chef, and of course an assortment of the best Italian desserts.
The main dish is – PINZA, the product that does not have any analogue in Russia. It is a true innovation in world of pizza, and it guarantees excellent quality and high definability.
We took the plane from Dubai to Moscow and discovered the culinar world of Valentino Bontempi.
Mr Bontempi, everybody knows 'pizza', but what is "pinza" ? Is it healthier than pizza?
Pinza is the "mother" of pizza, because Italians have invented first invented "pinza", since the Roman Empire. The main difference is the special mix of flavour (without glutene), and a longer period of preparation of paste (the final product is much more dietetic). Pinza is healthier, digestible, and low calorie.
Where were your roots in Italy , and how did your roots influence your gastronomic touch?
I am originally from the North of Italy, Lormbardia region.
Gastronomic traditions over there consist in simplicity, healthy food and the use of 2-3 products in 1 dish.
The taste is more important than a good "look" or presentation.
This is your first restaurant here in Russia?
No, I have 2 restaurants in Moscow: Pinzeria by Bontempi and Bontempi restaurant. I have also opened some other restaurants in Russia, Georgia, etc. Always busy ?
What do you like about the Russian cuisine ?
Oh, I love all these gorgeous Russian soups: Russians soup is similar to the feelings of Italians towards their "pasta"…It's a must for every day.
I started eating the various Russian soups at the very beginning of my stay in Russia and soon fell in love with it.
Are there any links between Russian and Italian cuisine?
Our "cuisines" are very different. Russian cuisine is much more similar with French cuisine.
If You had a culinary dream…what would it be ?
I would like to make a big chain af fast food, but only healthy, cheap and tasty for everyone.
OK, You have new concepts in mind ?
I am always working on new concepts, always inspired by something interesting. The point is that my concepts are often copied by others (and not in the best way).
Do You like the Arabian kitchen as we serve in the Gulf region ?
I have never been in UAE yet, but i would like to visit it! i have tried Arabian kitchen in Moscow, and i like it for it's healthy ingredients.
Any favorite dishes ?
Pinza! -) and 'penne al pomodoro' !
Have You ever been in Dubai ?
No, but i am going to come with my son on holidays.
You're both welcome and thanks for Your time !
Contact details :
Pinzeria by Bontempi
Phone:+7 499 678-30-09
Address: Moscow, Bolshoy Znamenskiy, 2c3
Opening times:12:00−23:00
Email:info@pinzeria.ru
Website : www.pinzeria.ru