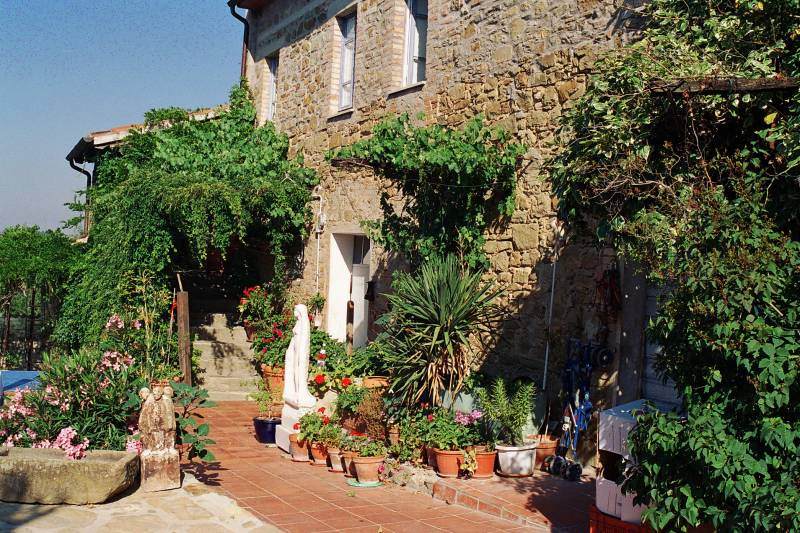 Villa La Rogaia near the Lake Trasimeno is a small organic farm in Umbria. We had an interview with Mrs Annette Greifenhagen proud of her holiday retreat and Umbria for many many reasons…
Annette, can You tell us something more about your background and your offer?
Hello , I am Annette Greifenhagen. I grew up in Germany and together with my husband and my two daughters I am living in beautiful Umbria since 1998. I am a physician and my husband is a stone sculptor.
Since 2003 we run a small organic farm near Passignano on the shore of Lake Trasimeno, one of the most attractive travel destinations in Italy. We produce our own olive oil and grow lavender, herbs and vegetables.
In addition, we rent holiday apartments and organize various courses and theme weeks such as culinary tours and cookery classes for Umbrian and Tuscan cuisine, stone carving courses, photography classes and dance courses.
We are proud to say, that we got to know Umbria quite well in the past 20 years: We can supply our guests with many insider tips for sightseeing, for dining out, for sports activities and for cultural events.
Villa La Rogaia is more than just a holiday accomodation in Italy, isn't it ?
Villa La Rogaia offers six apartments for 2 to 10 persons amidst a large garden with pool and a sculpture park. The size of our apartments varies from 20 to 150 sqm. No matter whether you are seeking a romantic hideaway for two or a large family abode for your holidays you will find just the right place for you at Villa La Rogaia.
Master craftsmen known for their artistic flair within an ancient tradition have restored all buildings and apartments at Villa La Rogaia. Outstanding art works in marble and other stoneworks by the sculptor Wolfgang Sandt give this holiday home a very special touch.
A large flower garden and sculpture park surround the house. Each apartment has a private terrace and tranquil garden to enjoy. A pool offers refreshment on hot summer days.
The surrounding landscape is a tapestry of olive groves, lavender fields, vineyards and woods, punctuated with cypress and ancient stone oaks. Here, far away from your hectic everyday life you can relax amidst a natural setting. In the early spring, almond and peach blossoms paint the valley. The summer brings honey scented ginestra (broom). Warm august nights are filled with cicada concerts. The hills are laced with golden hues in the mild autumn, warmed by the scent of chestnut fires throughout the valleys.
Villa La Rogaia is the perfect spot for those who seek absolute silence: the next public road is 2.5 km away. Children and pets are of course welcome.
Which places to visit do you recommend to your guests ?
There are miles of trails out our doorstep for hiking, mountain biking or horseback riding.
The panoramic drive to Lago Trasimeno is as pleasant as the lake itself. Dotted with islands and castles, this lake is a beautiful place to go swimming, sailing and windsurfing.
Many historically relevant towns are within easy driving distance from the villa such as Perugia, Assisi, Siena and Arezzo.
The region's capital Perugia is very popular with visitors and there are lots of exciting things to do in Perugia and as with many Italian towns, life revolves around the piazza. See the 13th century Fontana Maggiore at the center of the Piazza IV Novembre and marvel at the statues round the edges, including one of a griffin which is the symbol of Perugia and which can be seen all over town. The Cathedral of San Lorenzo on the edge of the piazza is a must for those interested in history; a wonderful Signorelli altarpiece and fantastic gothic architecture are just some of its attractions. Alternatively, just watch the world go by as you enjoy a cappuccino in the piazza. Don't forget to try cakes from Sandri, a Perugian landmark, where the owners have been selling coffee, pastries and sweets for over 200 years.
Assisi is the home town of St. Francis and one of the most important pilgrim places in Italy. Assisi is rich in amazing artworks like the frescos by Giotto in the Basilica. If you want to get an idea of the tranquil spirit of St. Francis you should visit his hermitage nestled among ancient woods on the slopes of Mount Subasio.
To many Siena counts among the most beautiful cities in the world. Have a cappuccino at the Campo (main square), crafted like a sloping scallop shell, and enjoy some of the world's best people-watching. Wander through the streets with elaborate gothic palazzos of white marble and pink Siena brick. The whole place emanates a serene elegance not easily to be found elsewhere. One could spend weeks visiting museums and churches. If you did not bring so much time do not miss the Maesta  (Virgin Mary in Majesty) by Duccio at the dome museum: Gothic transcendency on the gentle human features of a Sienese young woman. And stepping out of the museum you might just meet this face in the streets of Siena.
Everyone knows Arezzo by now. Oscar winning movie La vita e bella by Roberto Benigni took this pretty Italian town to Hollywood fame. A signposted walk leads to various locations of the film. Afterwards you can have a cappuccino at Café 'Vasari' in the decor of the turn of the century, overlooking the Piazza Grande, one of the most beautiful squares in Italy. Arezzo has a centre of seductive medieval and Renaissance charm. Chief lure in Arezzo is Piero della Francesca's cycle of The Story of the True Cross in the church of San Francesco. It has been recently restored and shines with new splendor.
And which restaurants do you recommend in your area?
Rosso di Sera at San Feliciano is probably the best restaurant on Lake Trasimeno. You will be sitting on a veranda overlooking the lake, especially nice in the evening, hence the name of the restaurant "Rosso di Sera" (sunset). The cuisine is creative and yet down to earth. Of course there is fresh fish from the lake, but also very tasty meat dishes and great desserts.
A little boat trip on Lake Trasimeno is always a good idea. After a walk on the Isola Maggiore there is a great place for lunch at Da Sauro. Take a seat in the shady garden, which extends down to the lake. Their specialty is the "Regina in porchetta", baked king carp with a filling of fennel and bacon (!). The other fish specialty of the Trasimeno, the "Tegamaccio" (fish soup), is also highly recommended, as well as the small fish delicacies for starters. The service is friendly and the atmosphere very relaxing.
In the center of Passignano sul Trasimeno you can have a superb meal at Del Pescatore under a vine-covered pergola or you can sit cozily indoors in the rustic restaurant. The "Del Pescatore" has long been the "first choice on the block" in Passignano, not because it is particularly posh or expensive, but because it simply offers the best cuisine at very reasonable prices. There is a wide range of fish and meat dishes and also delicious homemade pasta.
I guess many guests arrive by (hired) car…How about trains and airports nearby?
Villa La Rogaia is surrounded by nature, 4 km away from the nearest village, Castel Rigone, and there is no public transport available. Therefore we recommend to arrive by car. However if you are just looking for a tranquil retreat you may also arrive by train to Passignano sul Trasimeno or to Perugia airport. We are happy to pick you up!
Where do your guests come from?
Our guests come from all over the world: from Central and Northern Europe, Great Britain, USA, Middle East and Australia.
Villa La Rogaia is a success story.. What is your secret?
Villa La Rogaia is not just a holiday apartment rental place. It is an artists home and you can see this in every little detail: You will find outstanding artworks in all apartments and a large sculpture garden surrounding the house. Our guests especially appreciate our hearty hospitality, it is just like staying with friends.
Another secret of our success are the activities we offer to our guests: from culinary trips and participation in the olive harvest to painting, sculpting or photography classes. For many years dancers of Argentine Tango gather every year at Villa La Rogaia to learn with internationally reknowned teachers in our Tango weeks.
Are you planning any new activities?
In 2016 we have introduced with great success our Full immersion Culinary Weeks in Umbria and Tuscany: Our guests experience the fun of authentic hands-on cooking classes as well as guided sightseeing, gourmet food and wine tastings, truffle hunting, shopping tours and meals in celebrated restaurants. An experience not to be missed according to enthusiastic participants!
What is your biggest satisfaction ?
We are happy that many of our guests return to La Rogaia, some of them for many years, in order to enjoy the tranquility and the manyfold activities at Villa La Rogaia. This for us is the best feedback!
One more question..If You have to choose your favorite holiday destination or retreat…What would it be ?
My ideal vacation is a retreat to a little paradise off the beaten track. And quite a few of our guests have called Villa La Rogaia 'a little paradise in the heart of Italy'.
Contact details :
Villa La Rogaia
Az. Agr. Annette Greifenhagen
Via Campagna 17
Castel Rigone
I-06065 Passignano s.T. (PG)
Italia