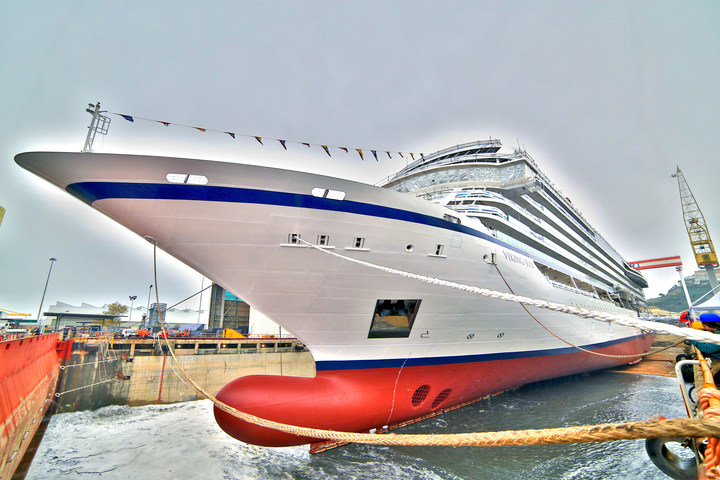 Cruises
Viking Ocean Cruises Celebrates Float Out Of Fourth Ship
Viking Ocean Cruises® (www.vikingoceancruises.com) today announced its fourth ship – the 930-passenger Viking Sun – was "floated out," marking the major construction milestone, and the first time that the new ship touches water. The traditional ceremony took place on December 15 at Fincantieri's Ancona shipyard. Viking Sun will debut in late 2017 and will be marketed to travelers in North America, the U.K., Australia and New Zealand. The ship will begin her maiden season sailing voyages to Cuba and the Caribbean, before embarking on a 141-day World Cruise that spans 5 continents, 35 countries and 66 ports.
A float out ceremony is significant because it denotes a ship moving into its final stage of construction. Viking Sun's float out began at approximately 10:30 a.m. local time, and in keeping with maritime tradition, a madrina – a special woman of honor – assisted with the ceremony, first welding coins under the ship mast. As Viking Sun will be the company's first ocean ship to call on China, Mrs. Yi Lou, Vice President of China Merchant Bank Financial Leasing (CMBFL), served as Viking Sun's madrina. She welded commemorative coins representing her birth year, as well as the birth years of her parents. A special coin, dated 1911, was also welded to represent mother Ragnhild "Mamsen" Hagen, the mother of Viking's Chairman and the woman after whom the onboard Norwegian deli Mamsen's is named. Mrs. Lou then cut a cord to allow water to begin flowing into the ship's building dock. Following a two-day process that will set Viking Sun afloat, she will then be moved to a nearby outfitting dock for final construction and interior build-out.
"It is always a proud moment for the entire Viking family when a new ship meets water for the first time," Viking Cruises Chairman Torstein Hagen said at the ceremony. "CMBFL is an important partner, and we wanted to honor our relationship by naming one of their executives as madrina to our newest ship."
Viking's Ocean Ships
Viking's ocean ships have a gross tonnage of 47,800 tons, boast 465 cabins and accommodate 930 passengers. Viking Sun is the fourth of six ocean cruise ships on order and will be delivered in late 2017. Viking will launch Viking Spirit® in 2018 and the remaining, yet-to-be-named ship in 2020. Classified by Cruise Critic as "small ships," Viking's ocean fleet features understated elegance and modern Scandinavian design. In its debut season Viking Star was awarded with the cruise industry's highest honors, including being named Best New Ocean Ship and scoring a 5-star rating by the editors of Cruise Critic, as well as receiving the highest rating in the mid-size ship category in Berlitz Cruising & Cruise Ships 2016. Designed by experienced nautical architects and engineers, including the same interior design team responsible for the award-winning fleet of Viking Longships®, Viking's ocean ships feature:
All Veranda Staterooms: Guests can choose from five stateroom categories, starting from a 270 sq. ft. Veranda Stateroom, all with private verandas and premium amenities that include king-size beds with luxury linens, large showers, luxury toiletries, heated bathroom floors and large interactive flat-screen LCD TVs with movies-on-demand.
Explorer Suites: The ship features 14 Explorer Suites, which are two-room suites ranging from 757 to 1,163 sq. ft. that offer sweeping views from wraparound private verandas as well as the most amenities and privileges of any category onboard.
Two Pool Choices: In addition to the Main Pool with a retractable roof permitting any-season swimming, the ship features a first-of-its-kind glass-backed Infinity Pool cantilevered off the stern, allowing guests to swim surrounded by their destination.
LivNordic Spa: In keeping with Viking's Nordic heritage, The Spa onboard is designed with the holistic wellness philosophy of Scandinavia in mind — from the centuries-old tradition of the sauna to a Snow Grotto where snowflakes gently descend from the ceiling through chilled air. Berlitz Cruising & Cruise Ships 2016 named it one of the "5 best cruise ship spas."
Explorers' Lounge and Mamsen's: Share a cocktail with friends. Linger over a Norwegian breakfast and a nautical history book. The Explorers' Lounge and Mamsen's gourmet deli are thoughtful spaces located at the bow and designed in the Scandinavian spirit, for complete relaxation and for marveling at sweeping views through double-height windows.
The Wintergarden: Guests looking for serenity will find it in the Wintergarden. In this elegant space, guests can indulge in afternoon tea service under a canopy of Scandinavian trellised wood – an homage to Norse mythology and Yggdrasil, the Tree of Life.
Dining Choices: Viking's ships offer multiple restaurant locations and food choices — from fine dining in The Restaurant, which serves three full meals and the widest choice of culinary options, and the World Café, which serves international fare and regional specialties — to intimate dining experiences at The Chef's Table, which offers a multi-course tasting menu complete with wine pairings, and Manfredi's, which features freshly prepared pastas and Italian favorites. Additionally, The Kitchen Table focuses on regional dishes from market to table; the Pool Grill specializes in gourmet burgers; afternoon tea and scones are available in the Wintergarden; and Mamsen's serves Norwegian deli-style fare. Furthermore, with multiple choices for outdoor seating during meals, Viking's ships offer the most al fresco dining at sea.
Enriching Entertainment: Connecting guests to their destinations through authentic experiences is central to Viking in creating "the thinking person's cruise." Instead of casinos and water slides, guests are offered Viking's Culture Curriculum® including: world-class lectures on history and art; tasting of vintage wines from their destinations; restaurant menus inspired by local cuisine; informative port talks; enriching Destination Performances featuring folkloric shows and musicians playing regional and classical music; an onboard cooking school allowing guests to learn how to prepare local specialties.
Sustainable Features: Designed with the environment in mind, Viking's ships feature energy-efficient hybrid engines, hydro-dynamically optimized streamlined hull and bow for maximum fuel efficiency and equipment that minimizes exhaust pollution and meets the strictest environmental regulations.
The Viking Difference
Designed for discerning travelers, Viking offers guests "the thinking person's cruise" as an alternative to mainstream cruises. The Viking difference is providing guests with extraordinarily well-designed cruises that facilitate engagement with the cultures of the world. Ships are small allowing privileged access to smaller ports and getting guests closer to their destination, with more time in port, more overnights and fewer days at sea. Onboard, guests find serene Scandinavian spaces, where every room is beautiful and functional, quiet and filled with light. All-veranda ships mean that guests experience every day with a new, expansive vista. With the most al fresco dining at sea, featuring regional cuisines and always-available American classics, Viking's guests can truly dine in their destination. A focus on cultural enrichment brings immersive experiences onshore and onboard. And only The Viking Way brings guests itineraries that feature Local Life, Working World and Privileged Access experiences.
In addition, Viking Inclusive Cruising provides a small ship experience at a big ship value — with every cruise fare including a veranda stateroom, shore excursions in each port of call, all onboard meals, and all port charges and government taxes. Guests also enjoy many complimentary amenities as part of their fare, including: beer and wine with lunch and dinner service; premium dining reservations; Wi-Fi; self-service laundry; access to the Thermal Suite in the LivNordic Spa; and 24-hour room service — an included value of more than $200 per person, per day.
Booking Details
From now through December 31, 2016, Viking is offering U.S. residents special savings and discounted airfare on the Viking Homelands itinerary – plus a new "choice" offer, allowing guests to choose between a free beverage package, $400 shipboard credit per stateroom or prepaid onboard gratuities. Contact a travel agent or call Viking toll free at 1-855-8-VIKING (1-855-884-5464).