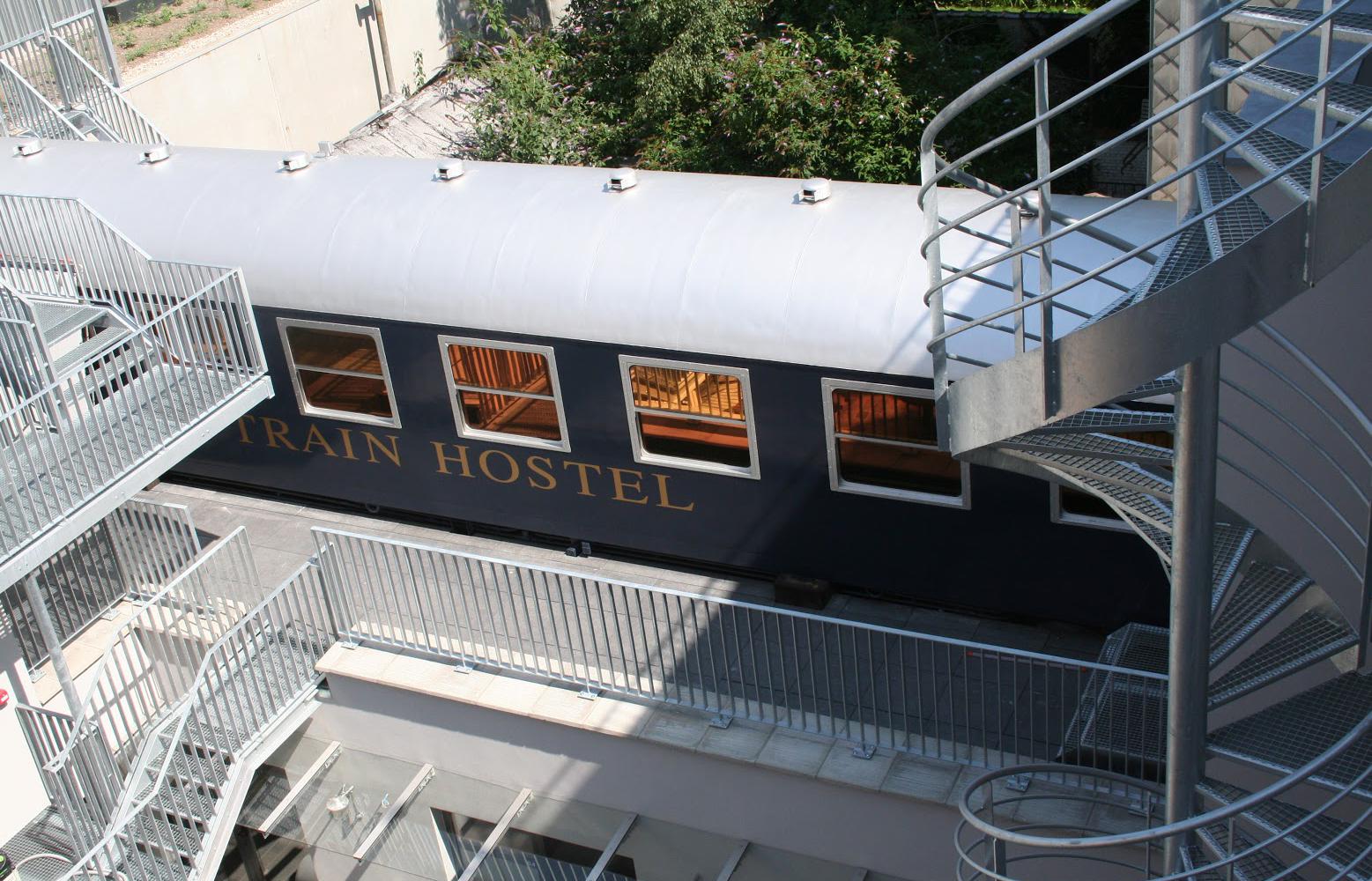 The idea was to be able to provide an "exceptional", surprising, friendly and economically affordable hosting experience for everyone: families, groups, tourists and business travellers.
At the end of 2011, we bought a magnificent one century-old building, we were seduced by its location (close to a train station, it was perfect) and by the beauty of the areas closeby.
The concept of the train came naturally after the announcement of SNCB to build the museum "TRAIN WORLD" under the scenographic supervision of the famous artist François Schuiten. Obvious contacts took place with the SNCB, the municipal authorities (of course) and the artist. And that's how we decided one day to call the SNCB to buy some of their old wagons. And just like that, the Train Hostel was born.
After that, 4 years of reflection and titanic work followed up.
Installing segments of authentic railway cars weighing more than 30 tons on the top of the building was clearly not an easy task. In addition to the necessary authorizations, the building had to be strengthened.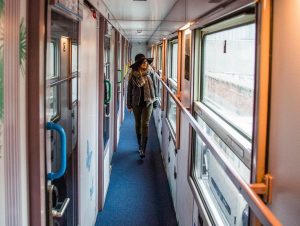 We built some kind of big concrete table whose feet are now going through the entire building until its foundation, to anchor in the geologically hard layer.
Furthermore we wanted to create an atmosphere, a real spirit of our concept. So the train wagons were not enough, we decided to go through hundreds of kilometers of flea markets to find the elements that would help us to anchor our concept, to represent the soul of our hostel. And we were extremely lucky to receive even more elements donated by train lovers which lead us to some incredible meetings as helpful as enriching.
The result is all around you.
All the objects, the elements that surround you have had a previous life and reflect the industrial and human heritage of our rail. All of it belong to an epic journey that we can be proud of.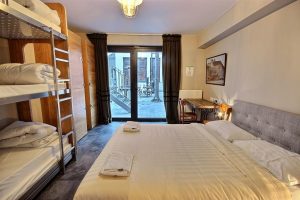 We opened our doors to the public in September 2015.
Train Hostel provides several types of accommodation in single rooms with private shower rooms, shared rooms or authentic train cabins.
These railway cars were still traveling the European railways a few years ago and carried millions of passengers, today they carry hundreds of travellers still as thristy of adventures as predecessors.
Human first :
One of the essential values of Train Hostel is the conviviality. We wanted a place where everyone feels comfortable, regardless which side of the deskthey are. And what more convivial than a station, where thousands of people travel a day, where you could some travel books on the bench you were sitting, where you could start talking to someone juste because you're there, waiting.
You will find in the Train Hostel a library, reminding you of the travel books concept (you take one book, you leave another one there), a baby foot, a room where you'll be able to have your meals surrounded of new people.
We hope that TH, its atmosphere, its decoration and the occasional events that we organize are a source of inspiration and sharing. During their stay, people enjoy the original concept and have the opportunity to meet new people and discover new cultural, linguistic or social-economic backgrounds.
Some numbers :
Building Construction: +/- 1910
Previous assignment: Studio photo and cinematographic specialized in stop motion.
Acquisition of the building: Dec 2011
Announcement of the creation of TrainWorld by the SNCB: +/- March 2012
Acquisition of train cars: April 2012
Start of works: August 2012
Placement of cars: Sep 2012 and Nov 2013
End of works and opening to the public: Sept 2015
Capacity: 36 rooms and compartments; +/- 200 beds or berths.
Railroad cars :
Type of car: I5 – SNCB
Curb weight: +/- 44T
Initial commissioning: +/- 1975
Complete renovation: +/- 1995
Railway use until +/- 2008
Address:
Avenue Georges Rodenbach 6,
1030 Brussels,
Belgium