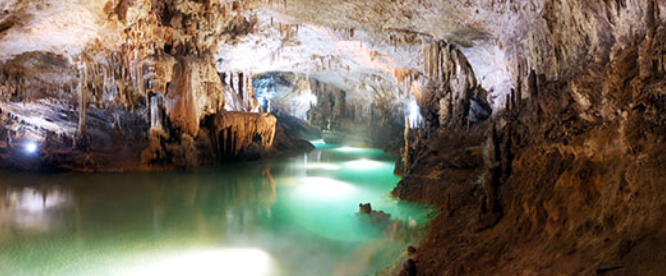 Jeïta Grotto is the jewel of tourism in Lebanon offering to it's visitors qualified modern services and accommodation in harmony with a fascinating nature. 
The Jeïtta Grotto is only 30 minutes away from Beirut and you can easily find a taxi or tour operator to take you to this fantastic place.
It creates a magical trip which enables visitors to spend a day of wonder-filled adventure by being carried away from a tangible world to a wonderland where you will find 2 limestone crystallized grottoes characterized by extraordinary concretions of stalactites and stalagmites sculpted naturally in different forms, sizes and colors. 
The "Touristic Site of Jeïta" gathers all elements of nature such as stone, water, trees, flowers, air and animals in a splendid environment and with a divine touch of Lebanese cultural heritage. It's definitely one of the most impressive and interesting natural sites in the world.
More information : http://jeitagrotto.com/