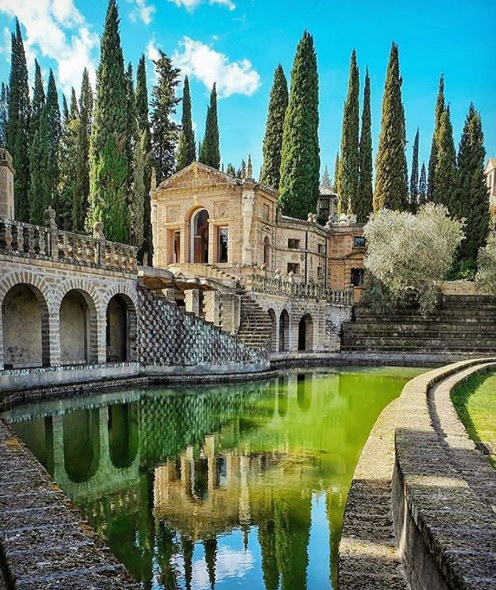 Terni is not only the city of steel mills, iron and fire, but a community that hides away plenty of surprises in its millenary history.
A modern city that merges well with its ancient center, Terni is surrounded by scenes that have continued to enchant visitors over the centuries. A verdant terrain with Medieval villages (for instance, the lovely San Gemini), the wonders of nature are everywhere to be found, including the Marmore Falls and Lake Piediluco.
Terni is also the city of St. Valentine, protector of lovers.
Indeed the Basilica that preserves his tomb is an important destination for pilgrims, while every year the entire city holds grand celebrations for their patron saint, culminating in his feast day on February 14th.
On the nearby mountain slopes (the tops of which are covered in snow in winter), and on the high grounds looking over the River Nera, age-old borghi, with their towers of stone, stand on guard.
It is within the extraordinary, out-of-this-world landscapes of the last stretch of the Valnerina (literally the Nera River Valley), right after the tiny town of Scheggino, the the Province of Terni begins.
Numerous are the Provine's points of interest: Ferentillo, a hub for rock-climbing; Arrone, a departure point for canoe and rafting excursions; andCasteldilago, Montefranco and the Abbey of San Pietro in Valle.
The sheer size of the local stronghold – a castle commissioned by Cardinal Albornoz – dominates over the entire scene. Nestled on the underlying slopes is one of the best-preserved villages of Umbria: Narni, with its towers, fountains, and Gothic and Romanesque churches. Towns such as these provoke the ambience and emotion of a Medieval era that becomes all but real during celebrations like the Corsa all'Anello, a race and series of historical re-enactments taking place every late-April to mid-May.
The entire territory around Narni offers similar experiences, from Calvi, with its traditional celebrations, to Otricoli, where the vestiges of one central Italy's most interesting ancient Roman cities are on view, i.e. of an amphitheatre and the Tiber River port.
Dense woods and mountains, hills and olive groves, natural oases along the Tiber's flow, fascinating castles like that in Alviano and Giove, watchtowers and age-old villages where elegant Romanesque church facades and bell towers stand out like jewels from the skyline.
Orvieto (Urbs Vetus, the old city), dominated by its Duomo, is the iconic image of this area, known and sought-out the world over. The Cathedral's facade and the wondrous frescoes by Luca Signorelli render this hilltop town one of the globe's most-appreciated touristic destinations.
Not only, but right in the vicinity of famous monuments, discovery of a thousand hidden corners of the ancient Etruscan city awaits – its underground, the celebrated white-producing vineyards in its environs, castles and old abbey churches. Orvieto is also the capital of Slow Food, resulting in a high-quality culinary tradition.