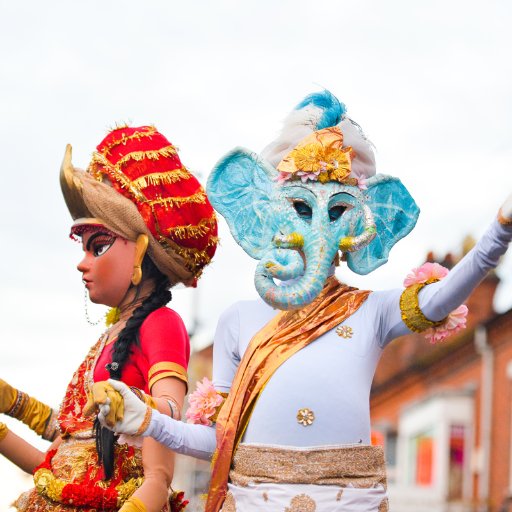 Experience the Summer of Festivals in a city that boasts one of the most diverse populations in the country. It will come as no surprise that the Summer of Festivals will be a true reflection of our multicultural, cosmopolitan and unique city.
To give you a flavour of what summer in Leicester is all about, we've selected ten awesome events that make up a Summer of Festivals programme you can't miss:
Monday 20 – Sunday 26 May
Leicester's award-winning international street art festival is coming back bigger and better this year! If you're not familiar with some of the exceptional murals, graphics, and large-scale pieces that were created in 2017, be sure to check out the full gallery online. 2019 will see two locations for its main events – the Cultural Quarter on 25 May, and The Mill in Frog Island on May 26. You'll be able to watch the artists during their creative process, as well as partake in several activities and events in the area.
Saturday 1 – Sunday 2 June
This fantastic festival, now in its 22nd year, returns for a packed two days of events both on and off the River Soar. There'll be family activities on Bede Park, including a fun fair, food stalls offering delicacies from around the world, and a wide range of arts and crafts available for purchase. The festival will also host a large music stage, with live bands performing music for all ages across both days. It wouldn't be a very good riverside festival without boats would it? Thankfully there's plenty of floating antics, including the colourful narrow boat rally, canoes, boat rides and demonstrations.
Saturday 15 – Sunday 30 June
Inspired by the 'Mods: Shaping a Generation' exhibition at New Walk Museum & Art Gallery, Revive brings together a whole host of activities and events across three weekends in June. You'll be transported back to the 1960s with vintage fairs, live music performances, vinyl record stalls, delicious street food, and more scooters than the set of Quadrophenia! Many of Leicester's most prominent venues have come together to create an immersive experience that will rival the swinging sixties. Take a look at the full programme of events here.
Saturday 3 August
First held in 1985, Leicester's very own Caribbean Carnival has gone from strength to strength and is now known as one of the largest carnivals outside London. It's the perfect place to celebrate Leicester's diverse cultures and experience the traditions of the Caribbean in one colourful celebration. Activities start at 11am in Victoria Park, when you'll be treated to entertainment and a variety of food stalls. The official opening ceremony begins at 12:30pm, shortly followed by the parade into the city centre, complete with plenty of costumed bands and floats. The parade will make its way back to the Carnival Village in Victoria Park by 2pm, where the music will continue on the main stage, along with plenty of fun, food and festivities continuing until the evening.
Gigs in the Gardens
Various Dates
De Montfort Hall, Leicester's largest entertainment venue has opened its gorgeous gardens for a series of large-scale outdoor performances this August. Already announced are indie icons, Kaiser Chiefs; chart topping Years & Years; the unique and immensely talented Jax Jones; fan favourites The Vaccines, and Birmingham rockers, The Twang. This one's perfect for any music lovers out there who appreciate stunning views and (hopefully) wonderful weather.
Sunday 18 August
Leicester Belgrave Mela is a celebration of South Asian arts and culture, with a day of dazzling street performances, mouth-watering delicacies, and nonstop entertainment. The Rajasthan Heritage Brass Band and Grand Indian Circus will be wowing audiences once again with their thrilling and unique shows. There'll be plenty of opportunities to pick up a bargain, with the Mela Shopping Bazaar, offering a mix of fashion, jewellery, arts, crafts and toys – not to mention the delicious snacks, curries and traditional sweets that you'll be able to enjoy!
Monday 19 – Sunday 25 August
The 2019 City Festival brings you seven fun-packed days of street entertainment, sports, culture, music, arts, heritage and plenty more! This year's theme is 'Out of This World' and celebrates everything to do with outer space – so be on the look out for mysterious visitors from worlds beyond, including futuristic robots and giant insects. The celebrations will continue into the early evening, with a number of concerts on the main festival stage.
Saturday 17 – Saturday 31 August
A two-week celebration of cycling including Green Bicycle Mystery Weekend, Castle Classic Race Day, Bike Jam & Bike Fest. With over 30 free, family-friendly rides and social events for all ages and abilities.
Join Let's Ride Leicester on Sunday 25 August along a 6km traffic-free route. A rolling carnival of colour accompanied by Filbert Fox, Richard III, Alice Hawkins and Cycling Suffragettes sharing Leicester stories from King Power, castle and cathedral to the market.
One Giant Leap
July – October
To mark the 50th Anniversary of the Apollo 11 Moon landings, you'll be able to enjoy a range of out of this world events over summer. Sit back and enjoy the intergalactic outdoor cinema and spectacular projection show at New Market Square, create thousand piece LEGO® brick sculptures, throw it back with retro moon landing inspired video games across the city, and enjoy the chance to revisit artist Luke Jerram's Museum of the Moon – a huge scale illuminated replica of the moon which, in true lunar fashion, has also travelled all around the world!