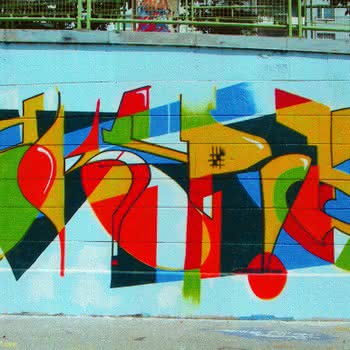 Vandalism or art? Street art continues to divide opinion. Developed out of the illegal graffiti scene, the young art genre has long since found its way into galleries and museums, and conquered the art market. Also closely associated with graffiti and street art culture is skateboarding. For a long time labeled an intrusive and disruptive mobility culture of young people, the cult board of the 1970s has been enjoying a renaissance as a means of mobility and a leisure sport for a number of years. For many people, skateboarding is not only a sport but also an attitude towards life and a way of shaping the world around them. From July 5, the Wien Museum invites everyone to discover the broad spectrum of both scenes. The empty rooms slated for the upcoming remodel will become a space for street art and skateboarding
While skaters on the ground floor turn the installed ramps into their new hot spot, the first floor is given over entirely to colorful street art. More than 30 graffiti and street art artists, who have creatively shaped Vienna's cityscape in the last 25 years, take over the museum's walls here. Paul Busk, Shue, Thomas Mock, MALR, Chinagirl Tile, KLITCLIQUE, Lym Moreno, and Knarf are just some of them.
The Wien Museum will become a work of art not only inside but also outside. The façade will accommodate several murals, including a collaboration by Frau Isa and Nychos, Austria's best-known street art artists around the world. Throughout the summer, there is a packed supporting program around "Takeover – Street Art & Skateboarding" for all age groups. From skateboard courses for kids and street art, drawing, and video workshops for young people, to classic guided tours. Topics such as "Mythos Graffiti" (Legend of Graffiti) or "(K)ein Raum für Street Art und Skateboarding" (A space for street art and skateboarding – or not?) are discussed in panels. "Graphic Vienna Extended" and "Artslam!" are two major events at which artworks can be purchased. Regular DJ lines from Res.Radio as well as changing pop-up stores and cooperations with the Popfest and Kaleidoskop, the new film festival on Karlsplatz, complete the program.