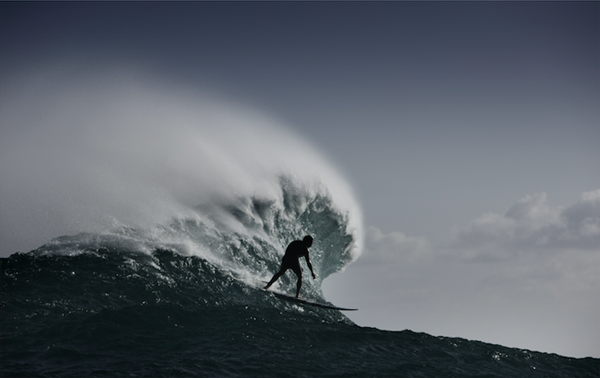 The year-long photography series at the Quin, located at 57th Street and Sixth Avenue, reaches a high-octane conclusion in November with the debut of an exhibition from acclaimed photographer Bo Bridges titled, "Fear the Life Unlived." Curated by DK Johnston, the exhibition displays Bridges' trademark passion for outdoor adventure and impactful moments. The exhibition will also include a 13-screen video art wall display, highlighting Bridges' work with leading celebrities, athletes and musicians. Launching November 9, Fear the Life Unlived will be on view in public spaces throughout the Quin through early January, 2018.
Bo Bridges has spent his life chasing the natural high that comes from, as he puts it, "teetering on the edge of trouble." His quest has led him to far flung destinations around the world to shoot big wave surf, the highest altitudes, and people that, like him, live life to test its limits. The exhibition at the Quin features Bridges' favorite playgrounds – from Teahupo'o, Tahiti (where he shot the cover of Surfer magazine), to Hawaii's North Shore, Mexico's Guadalupe Islands, the Grand Tetons and his own backyard in Southern California. Fear the Unlived Life demonstrates with stunning imagery just what "the pursuit of the rush" looks like.
Bo Bridges is a world-renowned advertising and fine art photographer. His passion for adventure drives the dynamic imagery he produces. His portfolio is an eclectic mix of professional athletes, celebrity portraits, film and television campaigns, in addition to beautiful scenes and imagery from around the world. After acquiring his pilot's license in 1999, Bo began developing his signature theme, 'from above and below,' that is prevalent in much of his work. He moved to Vail, Colorado in 1996 to shoot ski and snowboard athletes and became primary photographer at both the Summer and Winter X Games, a role he has held for the past 15 years. His passion for action and adventure has also included shooting campaigns for action films including Mission: Impossible V, The Transporter, Brick Mansions and Chasing Mavericks.
ESPN has called Bo's photo credits a "pyramid wall filled with iconic pieces of history," while Elite Daily labeled him "The World's Most Badass Photographer." His adventures range from swimming with great white sharks off Guadalupe Island, to hanging outside of an airplane with Tom Cruise in England, to developing awareness about the damage of natural disasters with Linkin Park and their Music for Relief foundation. Bridges is pioneering the use of virtual reality in action and water sports, bringing a never-before-seen experience to viewers and pushing the boundaries of his work to be able to share new perspectives with the world.
Quin Arts curator DK Johnston commented, "Travel and adventure are intimately connected and no one captures the spirit of adventure like Bo Bridges. His technical skill combined with his eye for pure moments of inspiration results in truly striking images."
Vincent Vienne, Managing Director of the Quin, added, "Our guests are world travelers who appreciate the inspiration found in environments from an urban midtown oasis to a rugged mountain range. We're so pleased they will have the opportunity to meet with Bo Bridges and experience his work during his residency at the Quin."
The Quin is managed by Highgate, a premier real estate investment and hospitality management company whose growing portfolio includes more than 100 properties in gateway cities worldwide. For more information on Quin Arts, visit www.thequinhotel.com. Information on pre-show sales is available by emailing DKJ@artsfund.com.  Bo's photography is also available from Bo Bridges Gallery Manhattan Beach, in Manhattan Beach CA and from Bo Bridges Gallery Vail, in Vail, CO, and online at: bobridgesgallery.com.
About The Quin
The Quin, New York City's quintessential luxury lifestyle hotel, is located on the corner of 57th Street and 6th Avenue. At the intersection of art, music, and fashion, its privileged Midtown location provides effortless access to Lincoln Center, Carnegie Hall, The Museum of Modern Art and Fifth Avenue couture. The Quin melds modern opulence with its rich artistic heritage in each of its 208 thoughtfully appointed guestrooms, including 28 suites. Guests enjoy urbane and intelligent services from the QA, who curate each guest's New York experience, to distinguished amenities such as a state-of-the-art Technogym fitness center, Apple equipped drawing room, Dux® beds by Duxiana®, and Fresh® Spa Products.  Guests can also indulge at The Wayfarer, a classic American grille, located adjacent to the hotel. Renowned architecture and interior design firm, Perkins Eastman, has transposed a contemporary masterpiece on the classical foundation that was once home to cultural icons like pianist Ignacy Jan Paderewski and artist Georgia O'Keeffe. Follow the Quin @thequinhotel.  Reservations are available at 1-855-447-QUIN (7846) or http://www.theQuinhotel.com.