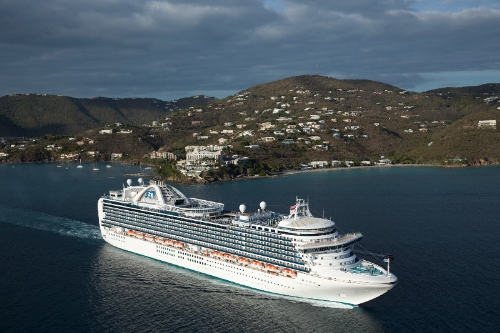 For the first time in four years, Princess Cruises will offer Summer Caribbean cruises including Panama Canal transits in 2018. The 3,192-guest Caribbean Princess returns to sail on a full summer season of voyages ranging from seven-day Eastern and Western Caribbean to a 20-day Caribbean and Panama Canal Explorer. All Summer Caribbean cruises are open for sale Dec. 1.
The 2018 April to October summer program features 47 departures, roundtrip from Ft. Lauderdale, including eight unique itineraries visiting 23 destinations in 22 countries. In addition, four ports offer late night stays so guests have more time to explore the evening offerings these destinations have to offer.
New for 2018, 20-day Caribbean and Panama Explorer voyages combine a 10-day Panama cruise and a 10-day Southern Caribbean Medley or Eastern Caribbean Voyager cruise. Princess Cruises takes more guests through this engineering marvel than other cruise line.
"Summertime is the prime vacation season for most Americans and we're happy to offer the Caribbean in 2018," said Jan Swartz, Princess Cruises president. "We have award-winning itineraries of various lengths so families, honeymooners, couples, friends and travelers alike can get away to explore new places, reconnect with one another and ultimately 'come back new' with Princess."
Caribbean cruise highlights for Summer Caribbean 2018, roundtrip out of Ft. Lauderdale, include:
Eastern Caribbean (7 days) – Guests can enjoy an adventurous week in the Caribbean, including calls at the ports of Princess Cays, St. Thomas, Grand Turk or Amber Cove with a multitude of water activities to choose from. Sailings depart May 26; June 9, 23; July 7, 21; August 4, 18; and September 1.
Western Caribbean (7 days) – Alternating with the Eastern Caribbean voyages, this itinerary features calls at Grand Cayman, Cozumel, Roatan and Belize highlighting the Mayan culture and history of the region. Caribbean Princess sets sail on this route on May 19; June 2, 16, 30; July 14, 28; and August 11, 25.
Guests can combine these popular seven-day Eastern and Western Caribbean voyages, for a 14-day Caribbean East/West Adventure.
Southern Caribbean (8 days) – For a more in-depth experience, one Southern Caribbean cruise will be offered with stops in Curacao, Aruba, Bonaire; departs May 11.
Eastern Caribbean Voyager (10 days) – For more relaxation time, guests will enjoy an extended Eastern Caribbean cruise, visiting Princess Cays, St. Thomas, Antigua, St. Lucia, Barbados, St. Kitts. Cruises depart May 1 and September 28.
Southern Caribbean Medley (10 days) – For those looking for deeper exploration, guests can travel to the beautiful beaches in the Southern Caribbean, including Princess Cays, St. Thomas, Dominica, Grenada, Bonaire and Curacao. Departures on April 11; September 8 and October 18.
Panama Canal with Costa Rica (10 days) – Transiting the new Agua Clara Locks with a Panama Canal partial transit, including a day of scenic cruising through Gatun Lake, guests will also visit Grand Cayman, Cartagena, Colon, Costa Rica (Límon) and Falmouth (Jamaica). Sailings depart April 1, 21; Sept. 18; and Oct. 8.
Guests can combine the cruise line's signature 10-day Panama Canal voyage with the 10-day Southern Caribbean Medley or Eastern Caribbean Voyager for the ultimate 20-day cruise vacation.
Captain's Circle Savings
Princess Cruises past guests are eligible for a special promotion when they book before August 31, 2017. Captain's Circle members booking a seven- to 10-day cruise, will receive a savings of $50 per person and those booking a 14- or 20-day cruise will save $100 per guest (does apply to third and fourth berth guests).
More Ashore and Top-Ranked Shore Excursions
Offering guests more time to explore local cultures and culinary offerings, select itineraries in the Caribbean offer extended stays in Aruba, Curacao, Cozumel and St. Maarten with departures of 9 pm or later.
Through the cruise line's exclusive partnership with Discovery and Animal Planet, guests can choose from immersive excursions for the whole family, including:
America's Cup Yacht Race (

St. Maarten

) – Discovery Recommended
Antilla Shipwreck Snorkel (

Aruba

) – Discovery Recommended
Mayan Ruins at

Tulum

(

Cozumel

) – Discovery Recommended
Sloth Sanctuary in

Costa Rica

(Límon) – Animal Planet Exclusive
Locally-Inspired Onboard Events
While guests sail aboard Caribbean Princess they will continue to enjoy the destinations they visit with the following offerings:
Locally-inspired cuisine, such as

Caribbean

island-spiced chicken
Festivals of the World – live entertainment celebrating

Mardi Gras

and Festival de

Panama

(Panama Canal cruises)
Steel Drum Lessons, Local Crafts, Talk Like a Pirate Day, Rum Tastings
Live narratives while sailing through the Gatun Locks (Panama Canal)
Discovery Encounters – local guest speakers sharing authentic stories and passion for their homelands
Club Class Mini-Suites
Summer 2018 Caribbean Princess guests can choose a new premium stateroom category featuring VIP amenities and exclusive dining with the new Club Class Mini-Suite. This elevated mini-suite category features select perks including new Club Class Dining, a reserved dining area with expedited seating and expanded menu options; priority embarkation and disembarkation; complimentary wine and luxurious bathrobes.
Additional information about Princess Cruises is available through a professional travel agent, by calling 1-800-PRINCESS (1-800-774-6237), or by visiting the company's website at princess.com.
About Princess Cruises:
One of the best-known names in cruising, Princess Cruises is a global cruise line and tour company operating a fleet of 17 modern cruise ships renowned for their innovative design and wide array of choices in dining, entertainment and amenities, all provided with the experience of exceptional customer service. A recognized leader in worldwide cruising, Princess carries 1.7 million guests each year to more than 360 destinations around the globe on more than 150 itineraries ranging in length from three to 111 days. The company is part of Carnival Corporation & plc (NYSE/LSE: CCL; NYSE: CUK).
Newsroom:
Additional media information is available at princess.com/news.
For further information contact:
Brea Burkholz, 661-753-1542, bburkholz@princesscruises.com
Negin Kamali, 661-753-1539, nkamali@princesscruises.com