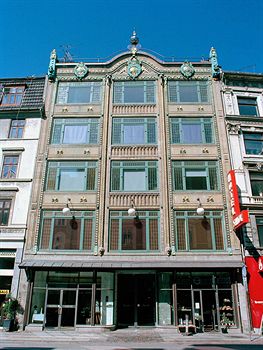 History
The building Løvenborg where you will find the Savoy Hotel, is designed by architect Anton Rosen, who is also known for Tuborg and Palace Hotel. The Art Nouveau building was completed in 1906 and delivered in 1985 under monument protection. Not only the impressive facade, by the way, the first of its kind in Denmark, one can recognize Anton Rosen decorative delight in detail. After a renovation in 1996 and a restoration in 2001, it became even more beautiful and more expressive forward in the road image. The building was once the very first in the whole of Denmark, which had a lift. Also on this day, more than 100 years later, the elevator is still fully functional and can be used by our guests.
Anton Rosen
Anton Rosen was born in 1859 in Horsens in Jutland. He was trained as a bricklayer, and came about the technical school in Copenhagen to Copenhagen Architecture School. He marked Copenhagen by many buildings, the most famous being Ørneapotheke in Vestergade, a water tower next to a former textile factory, and of course, Savoy Hotel in the building Løvenborg.
ROOMS
The rooms have been renovated in 2012 and have lots of natural daylight. They are all facing an inner court yard and are very quiet.
Choose between various sizes of rooms and rates.
GREEN KEY
At Savoy Hotel, we are proud to be a member of the Green Key, which is a recognized and voluntary labeling scheme for hotels. This means that we as hotel special attention to environment and health – without compromising on quality and service.
A Green Key certification means that you have to meet 78 specific criteria within a number of categories. For example, we limited our electricity, water and heat consumption, switching to environmentally friendly energy sources and received organic products in the restaurant.
At Savoy Hotel, we have a number of long-term goals which eventually make us even better to protect the environment and make guests feel at home with us. We are therefore pleased to welcome you to an enjoyable stay at a hotel where environmental friendliness is in focus.
Facts
We have 66 rooms on 6 floors. All rooms face a quiet courtyard
The reception is open around the clock.
Breakfast buffet from pm. 07:00 to 10:00 Monday to Friday. On Saturdays, Sundays and public holidays breakfast buffet opening hours. 07:00 to 10:30.
Savoy Hotel has free wifi in all rooms.
At the reception are available also a guest PC with internet access and tablets.
Iron and ironing board can be borrowed for free at reception.
Lobby bar with drinks, snacks etc.
Luggage: If your luggage is desired stored on the departure day, there are lockers with lock (price kr. 10, -). In addition, the hotel has a common trunk for free of charge.
Guide to the ultimate trip in Copenhagen
Wonderful Copenhagen has developed VisitCopenhagen, which is a website where you as a guest in Copenhagen, you can get all your questions answered.
Search example:
– Events on specific days
– Food
– Shopping
– Transport
– Districts
– and much more
Your personal guide:
As a special feature you can create your very own guide … quite simple! Press it, you'd have time to experience and it will be added on "My Guide". You can easily remove and add the guide, store it when it is finished, and make new guides. You can even download your guide as a PDF and print it out.
Visit the website by clicking the logo below and find inspiration for your stay.
If you have further questions, please feel free to contact us at mail@savoyhotel.dk
Find us!
 Vesterbrogade 34
1620 København V
+45 33267500
+45 33267501
Win a voucher for 2 nights free stay (valid until 30.04.2017) !
Find the answer on following question on www.savoyhotel.dk :
Send us the address of this magnificent hotel !
Send us Your answer before 30.07.2017 to competitions@xtradubai.com