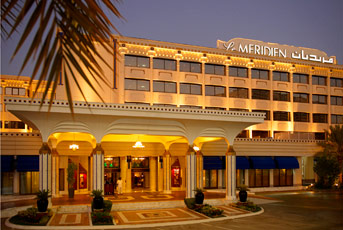 Le Méridien Abu Dhabi, providing luxury with efficiency, offers various services and facilities.
The beautifully refurbished 234 spacious rooms and suites, consist of Standard rooms and suites which include several amenities, some of which are individually controlled Air Conditioning, Color Television, Satellite Television, Mini Bar, Telephone, Hair Dryers, and Razor Point. The Royal Club Rooms provide you with state of art business facilities to make your stay more enjoyable and elevates your experience to a higher level of comfort and service. Our newly renovated dedicated Royal Club floor offers more spacious, luxury rooms and suites with details to make your stay even more memorable.

The recreation facilities provided by Le Méridien Eden Spa & Health Club are a collection of health, fitness and fun. The finest equipments used and amenities offered bring relaxation and serenity to body and mind. Moreover, take advantage of the amazing health club, which features top quality exercise equipment in the spacious gym, sufficient courts, and much more. Relax at the tranquil beach or at the variety of pools available.
Rejuvenate and pamper yourself at the Eden Spa with one of many treatments, such as various massages, aromatherapy treatments, wraps and mineral baths. Not only that but it provides the facilities that includes an Aquamedic pool, Jacuzzi, Turkish Hammam, and private rooms for spa treatments.
Le Méridien Abu Dhabi is recognized and famed for its Méridien Village, one of the main attractions of the hotel which lies in its exclusive scenic gardens with picturesque walkways, surrounded by its unique mix of 14 restaurants, which represent various cuisines from around the world. Indoor and outdoor seating is available in a relaxed and enjoyable surrounding.
The hotel offers 14 restaurants and bars for you to choose from. Méridien Village Abu Dhabi brings the world to your plate with restaurants from around the globe, such as Talay (Thai), Acropolis (Greek), Captains Arm's (English), Pappagallo (Italian), Latest Recipe (International) and many more.
You can watch all your favorite matches and championships at the NRG sports café which is home to the Largest screen in Abu Dhabi.
Courtesy and hospitality are the key aspects visitors like about the hotel that make them want to return time and time again. Our associates have perfected the Méridien style of service that promises to offer the best.
Le Méridien Abu Dhabi has always lots to offer to everyone. It gives people the satisfaction, entertainment, joy, relaxation and so much more. So prepare yourself as Le Méridien Abu Dhabi is the place to be.
For more information about Le Méridien Abu Dhabi, please contact:
Desiree de Beer
Assistant Marketing Manager
Le Méridien Abu Dhabi
P.O. Box 46066, Abu Dhabi
United Arab Emirates
Tel. +971 (2) 644 6666
Dir. +971 (2) 644 6463
Mob. +971 50 182 0605
Fax +971 (2) 645 5715
desiree.debeer@lemeridien.com
http://www.lemeridienabudhabi.com
Win a voucher for 2 nights free stay (valid until 31.12.2017) !
Find the answer on following question on www.lemeridienabudhabi.com   :
Send us the name of Le Meridien's Spa Club ?
Send us Your answer before 30.09.2017 to competitions@xtradubai.com