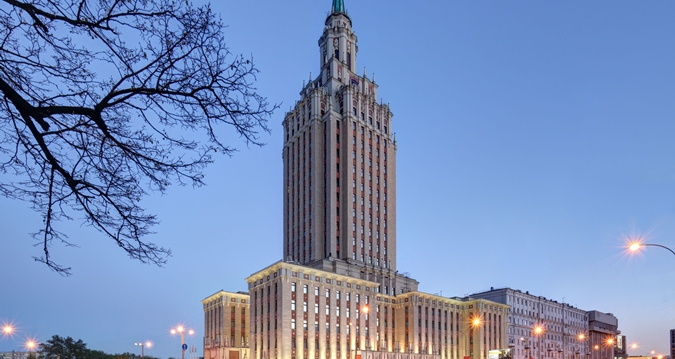 Hilton Moscow Leningradskaya is housed in one of the legendary Seven Sisters towers.
The towers were founded in 1947, on the 800th anniversary of Moscow,outlining the skyline of city centre – Garden Ring. Seven incredible buildings broke the skyline of this growing and developing city, a symbol that Moscow was changing, as the powerful capital of the eveloping country.
The "Seven Sisters" were designed in a style later called "Stalin" classicism for a ombination of space, grand image setting, lavish décor and breathtaking details.
This historic Moscow hotel was opened in 1954 and immediately became a landmark hotel and a true pearl in the crown of Moscow. The beautiful gilded gates leading to the main lobby were designed as a replica of the Golden Gates of Verhospassky Cathedral in the Moscow Kremlin. Similar gates are decorating the hall of Arbatskaya metro station constructed during the same period.
The stunning 12-meter-high ceiling of the second lobby is made of carved gilded panels and decorated with massive hand-made bronze lamps which are copies of Orthodox Church chandeliers. Two triumphant sculptures of lionesses guard the symmetrical marble staircases located in the heart of the lobby and decorated with historical moldings.
From the right staircase of our historic Moscow Hotel one can catch a glimpse of the famous chandelier which was included in the Guinness Book of World Records, as the longest hanging bronze lamp in the world (15,5 m).
Centrally located, this landmark hotel offers contemporary accommodation and premium amenities, within easy reach of the capital's many attractions. Whether staying for business or leisure, you can enjoy excellent dining options, first-class meeting facilities and panoramic views of the historic centre.

Location
Standing impressively above Moscow's skyline, Hilton Moscow Leningradskaya is located in one of the city's famous Towers. This landmark hotel offers easy access to major attractions, including the Red Square and the Kremlin.
• 5 min walk from Leningradsky railway terminal to ride high-speed train Sapsan into St. Petersburg.
• 10 min walk from two metro stations: Krasnye vorota and Komsomolskaya.
273 spacious rooms and suites provide a variety of contemporary amenities including free WiFi, mineral water, bathrobe and slippers, LCD TV with international channels, individual climate control, mini bar (additional charge), tea and coffee, and laptop size safe. Guests staying in an executive room or suite enjoy exclusive access to the hotel's executive lounge, serving complimentary breakfast, drinks and snacks throughout the day, an open bar with alcoholic drinks and hors d'oeuvres in the evening. Free WiFi and private work stations with Internet access are also available in the Lounge. Open daily from 07:00am until 11:00pm.
Room categories:
• Hilton Guest Room – 44
• Hilton Deluxe Room -156
• Executive Floor Room – 39
• Junior Suite – 26
• Corner Suite – 2
• Historical Suite – 5
• Presidential Suite – 1
Dining
• Boasting historical décor, Janus Restaurant offers a fascinating setting for enjoying Russian specialties and international favorites: from breakfast buffet infused with local flavors, such as blinis (Russian pancakes) and syrniki (fried quark pancakes), both topped with sour cream, jam and honey. Our lunch and dinner a la carte menu features savory Russian favorites like borsch and beef Stroganoff as well as European, American and Asian dishes and vegetarian options.
• Lobby Bar is a popular business meeting place by day. Select from a traditional English breakfast or Russian oatmeal and syrniki (Russian fried quark pancakes). Vegetarian options share the menu with the ever-popular club sandwich, burgers and Croque Monsieur. If you want a taste of home, we probably serve it in one of our European, American or Asian dishes.
• In-Room Dining is available 24/7 and includes 4 types of breakfast: Continental, American, Healthy and A la Carte. All day and night menus are based on the hotel's Restaurant and Lobby Bar Menus.
Hotel Services
• Free WiFi in lobby, Lobby Bar and restaurant Janus
• 24/7 Room Service
• ATM and currency exchange office
• Business center
• Free on-site parking
• Concierge and Guest Relations desk
• Taxi service
• Executive Lounge (available for guests staying in Executive Rooms and Suites)
• Gift shop
Meeting Facilities, total 7
• Located in the centre of Moscow, the hotel has a selection of seven venues for any occasion and style. All rooms have natural light, WiFi and air-conditioning.
• Grand Ballroom, the largest function room (300 sq.m.), is the perfect setting for big international conferences, social celebrations and weddings and can hold up to 220 conference delegates or 250 reception guests.
• Leningrad is the second largest meeting room with the ability to hold up to 100 guests. It is ideally suited to theatre style presentations, private parties and small banquets.
• Romanov Room can accommodate up to 45 guests and is close to the Janus Restaurant that can act as a lunch area. The room is completely adaptable and able to transform from a banquet to a classroom meeting.
• Elegantly styled four Orlikov Rooms are the perfect stage for a variety of smaller scale events, like business breakfasts, boardroom meetings or business breakfasts. These rooms are recommended for 40 – 60 delegates and feature flexible lighting, air conditioning, Wi-Fi and break out facilities to create the perfect working environment.
Health Club, open daily from 07:00am until 11:00pm
• Gym with selection of PRECOR cardiovascular and strength equipment (open 24/7).
• Heated pool (12m), dry saunas and Jacuzzi with hydro-massage.
• Massage services provided the hotel on-site therapist.
• Membership packages.
Address
21/40 Kalanchevskaya Street, 107078 Moscow, Russian Federation
Tel: +7 495 627 5550, Fax: +7 495 627 5551
www.moscow.hilton.com | www.facebook.com/hiltonmoscow | www.instagram.com/hiltonmoscow