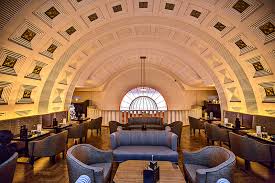 Our aim in developing Continental Hotel Budapest****Superior was to create a green oasis for guests where the stress and the noise of the big city can be totally left behind the minute they enter the hotel, completed with relaxation and entertainment possibilities.
Our hotel, which blends art nouveau, art deco and modern design, is entirely unique, while reflecting the distinctive style of Hotel chain.
The hotel is built on the site of the former legendary Hungária Spa and the historical Continental Hotel in Budapest's city centre. The nearby Jewish Quarter with its atmospheric streets, market and cultural legacy including Europe's largest synagogue and the Jewish Museum, together with the area's restaurants and retro bars evoke a special mood that cannot be experienced anywhere else in the world.
Our new four star hotel 272-room features a diverse range of rooms. In addition to the standard rooms we offer deluxe and executive rooms and 13 suites, even some featured with balconies and complimentary wireless Internet access. To ensure maximum comfort, all of our rooms boast parquet flooring and twin, queen or king-sized beds.
The hotel's exceptional ARAZ Restaurant seats 120 people and offers a wide selection of dishes. The menu evokes meals served by the upper-middle class restaurants of the past century, while combining fashionable international delicacies. The Gallery Café with Corporate Loungelocated above the faithfully restored main entrance are central areas for social life. The Spa of Continental Hotel Budapest****Superior has one of the largest and one of the most state-of-the-art wellness and fitness centres among Budapest hotels. We also cater to conference needs with our 5 conference rooms with a capacity exceeding 300 people and our underground parking garage.
Motto "Enjoy the hospitality!" expresses the desire of Concierge to make leisure, business and conference guests feel like at home in what may initially be an unfamiliar city environment by taking care of them.
We hope we will soon be able to take care of you!