Prato di Sotto is  a collection of historic stone buildings sits above the tiny 13th century hamlet of Santa Giuliana, not far from the market town of Umbertide. Lovingly restored by the owner, Penny Radford, and furnished with her personal collection of kilim rugs and antiques from around the world, the emphasis is on comfort and style.
Beds are large and comfortable with crisp linen sheets. Kitchens are equipped for even the most demanding cook.
There is a 15m infinity edge swimming pool and the garden and individual terraces have been carefully designed to offer elegance and privacy, scented with roses, jasmine and lavender. There are superb views across the Umbrian hills and the peaceful location creates a tranquil and restorative retreat.

Mrs Penny, Can You tell us something about the start of your accommodation ? When did you start ?
Together with my team I painstakingly built up, over the past 20 years, a beautiful country house garden in this idyllic part of Umbria. We started 20 years ago and every day visitors can't stop telling me how beautiful this place is. I'm really proud of it but the best feeling I have when each visitor feels home here.
Before I started this adventure I was in marketing and advertising business. When I saw this place it was a ruin with a long history going back to the 14th century.. Look at this place now, you can imagine how much time it took to bring it at this level.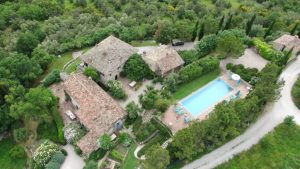 Where are your guests coming from ?
Our guests come from many places in the world but mostly England, The Netherlands, Germany, Poland, South Africa…
What type of guests do you attract ?
Our guests come to enjoy the cultural richness of this area in a peaceful , quiet environment. You hear the sounds of nature day and night…Bird songs during the day make you feel in perfect harmony with the nature… Late evening I see guests watching the stars, there is no light pollution here during the night.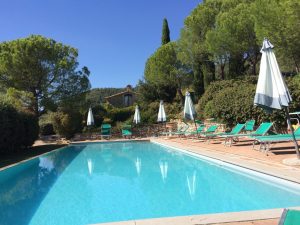 How many rooms do you offer ?
The accommodation consists of a large 4 bedroom Farmhouse (Casa Antica), a 2 bedroom Garden Apartment with a wonderful terrace (La Terrazza), a romantic 1 bedroom Cottage (La Capanna) and a Studio Apartment in the 14th century Olive Mill (Il Molino). All have private outside terraces and lovely views of the countryside, pool or gardens.
What is unique about your hotel's location? Why would people choose to stay in your neighborhood? 
Prato di Sotto is situated on a hilltop near the market town of Umbertide in Umbria, central Italy. It makes an excellent base for exploring Umbria's main towns and sites like Perugia, Assisi, Gubbio and Lago Trasimeno. It is also easy for a day trip to go to Sienna, Montepulciano or Florence in neaighbouring Tuscany.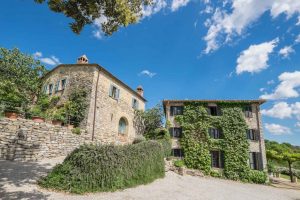 Pennie, if you had to make a small list of things to do in your area, what would you suggest ?
The abbey of Montecorona at the bottom of the hill from the property with a splendid crypt and the added avantage of a farm shop selling wine, olive oil and other products.
The Collegiate church, the Rocca (fort) and Santa Croce church with a small but interesting museum in Umbertide.
Wine tastings at the Girasole vineyard with guided tours available.
The beautifully restored medieval village of Montone, which is a delightful place to explore and also has three good restaurants.
There are many well known, and thankfully not so well known, Umbrian and Tuscan towns only a short drive from Prato di Sotto making a great day out. Perugia, Assisi, Gubbio, Citta di Castello, Sansepolcro and Cortona are all under an hour's drive. Also Lake Trasimeno is good for exploring the lake side towns, sailing or taking a ferry to the island of Maggiore.
If you are a road or mountain biker there are terrific valleys and mountains to traverse up to 926 meters.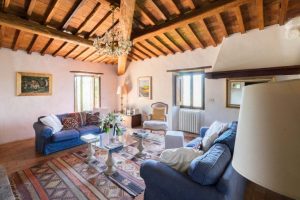 When is the best time to visit your area?
You can visit this area throughout the year, every season it is a marvellous place to be. We are open from March till October. During winter time we are closed but we have possibilities for a stay during the Christmas holidays. Most guests stay one week or more with us, but a 3 nights stay for example is also possible.
Do You offer arrangements to your guests to visit the area ?  
Whatever the guests are looking for we can offer them several possibilities. We have guests requesting horse riding or horse trekking activities, walking tours, guided tours in the area to visit the historical sites, whatever they want we can help. We also have the Antognolla golf resort nearby.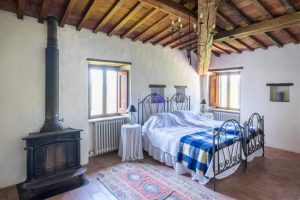 Are there any supermarkets near your accommodation ?
The town of Umbertide (15 minutes) is the best place for grocery and other shopping. There is a large Coop supermarket, other grocery stores, a fresh pasta shop, an excellent delicatessen and other shops for all your holiday needs. We can help each guest with each request, no problem.
I am extremely approachable for advice on the area and where you can find whatever you need.
Is there any typical meal guests should try when visiting your region ?
Umbertide has a good selection of restaurants and cafes for all tastes. I can recommend the best restaurants in the immediate area and in Perugia and Citta di Castello, whether your fancy runs to a simple pizzeria, traditional Umbrian cooking or a first class gourmet meal.
We'll have next year someone cooking typical Umbrian meals in our accommodation. Typical ingredients are of course pasta, truffles, ham, marmalade…
Are You planning new services or activities in the next months or years to come?
I am always thinking about new activities or how to improve what we are offering already. One of the ideas for the near future is to offer art classes for small groups or language classes.. Anyway if we do something new it must reflect the high level of all our services.
What's your favourite holiday destination ?
I like to go to the Tuscan coast, I love seaside… But there are so many beautiful places on this planet…But my guests always say I'm living in one of the most beautiful spots in Europe…
What is your  favourite part of your job / activity?
Walking with the guests. I just finished a book about circular walks in this area and it was wonderful to do this. I like creating things and here I could be creative and share my experience in a book. Guests can have the book and go for a walk and when they return they are always very positive about the things they experienced during the walks I describe in the book.
Is it possible to use public transport to come to your accommodation?
This is Umbria, most places are not very accessible for public transport. I really recommend to come by car or rent a car at the airport if you come by plane.
Do you accept pets in your accommodation ?
Yes, we accept pets but upon request.
Thank you very much Penny for your time !
Contact :
Telephone and Whatsapp : +39 348 2364535
Website : click here 
E-mail : peneloperadford@gmail.com