In the heart of the old Etruria between Firenze and Rome, on top of a hill, between Tuscany and Umbria, You can find Podere San Lorenzo. A beautiful accommodation run by Ans and Jef Van Asten. Here you enjoy Italy with the "Dutch touch".
You started in 2006 right ? 
Yes we renovated the place during one year and started the Bed & Breakfast in 2006.
The "Podere" was in really bad condition, we had to renew almost everything…. There were no windows, no electricity, no water…You can't imagine if you compare to the small paradise it is now..
So during 1 year you were busy renovating ?
A local contracter and a reliable surveyor we started the project in March 2005 and we could finish about 1 year later in May 2006 with the final renovations . I must say that the municipality were very helpful.
And construction and renovation was totally new for you ?
No, happily I had been working in the construction business for more than 30 years, all over the world. I knew exactly what should be done and how to do,  but still it was hard working of course. The hospitality industry was new for us.

Where are your guests coming from ? 
Many of them are Dutch and Belgian.  And that's also what we always wanted. Living in this Italian paradise and hosting guests from the Dutch speaking countries.
Families ? Young people ? 
Well most of them are +40 year's old, we don't have that much families with small kids or very young tourists.
How many rooms you have ? 
We have 8 double rooms each with their own bathroom.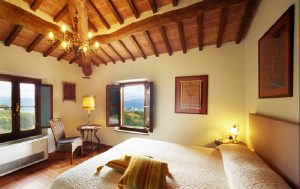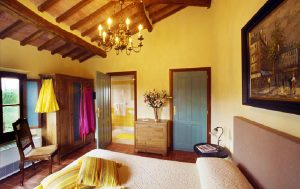 What makes your location so unique ? 
We have a stunning 360 degrees view to offer ! The A1 highway is nearby which means that you have easily access to our place and if you want to visit nearby cities you can take the highway. We are close to Cortona, Montepulciano, Perugia, Orvieto, Citta de Pieve, Castiglione del Lago and Gubbio. This is a central place if you want to visit the most beautiful villages and cities in our region.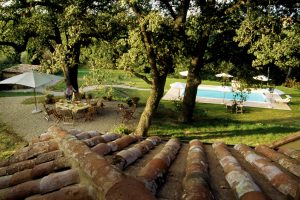 How about shops ?
We have shops and a supermarket very close to our accommodation and believe me this is not something you'll find everywhere. I forgot to add as a favorite tourist spot the famous "Lake of Trasimeno"…
What about food ? 
Well we have about 15 restaurants in our community. They serve food in all price ranges.
What is the best period to visit your region?
Well let's say from May until October.
Do you offer any tours or visits to your guests ? 
Sure, our guests can book a wine-tour and visit several wineries.
Any specialities regarding food & beverage which you would recommend ?
Well in autumn we have truffle on the menu. And we would like to offer cooking classes again. We are in touch with a chef who wants to be part of our cooking classes .
I understood you recommend to come by car to your place?
Yes the public transport is a disaster…The best option is to come by car or rent a car at the airport..You don't want to spoil your holidays because of the public transport, believe me.
By the way, what's your final holiday spot ?
Well our home village Oisterwijk in The Netherlands is now our holiday spot as our children live their. You can imagine it is now our place to be when leaving Italy for some days or weeks.
What do you like the most about your activity ? 
Taking care of our guests of course. This is essential and such a nice thing to do. If You don't like giving your guests a fantastic time and taking care of them you should never start running a Podere
The world is now digitally driven, did you see any changes ? 
Yes of course, now they can't live without WIFI, they need to be connected to the world all the time. They are using their navigation system and they are missing the beautiful roads which they would discover by using a roadmap…But ok ..
Whatsapp, Facebook, Messenger, e-mail…we have to be reachable all the time and by all means !
Thanks for your time !
Website : https://poderesanlorenzo.nl/
E-mail : info@poderesanlorenzo.nl
Tel : (0039) 334906147