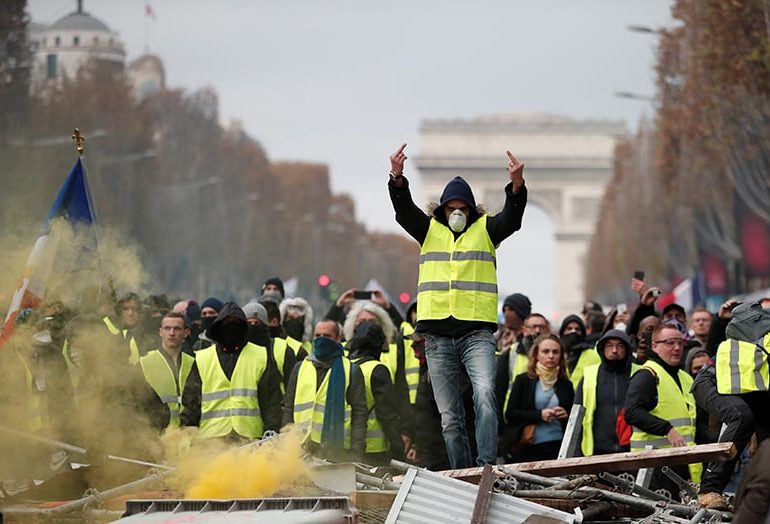 French stocks sensitive to the economy and to tourism fell in an otherwise buoyant market on Monday after the worst riots in decades swept Paris, stirring concerns about the possible damage from visitors steering clear of the capital.
Supermarket Carrefour and highway operator Vinci were the worst-performing, down 2.1 and 2.6 percent respectively. Shares in hotel chain Accor and airline Air France fell by 1.6 and 2.7 percent.
Nationwide protests against fuel taxes and living costs, known as the "yellow vest" movement after fluorescent jackets kept in all vehicles in France, escalated on Saturday as rioters ran amok across central Paris, torching cars and looting shops.
Investors and traders connected the stock falls to investors' unease over the potential impact riots could have on the economy and on tourists' appetite to visit the capital.
"Accor is falling, and it is fair to say that investors are wondering if there will be cancellations at their hotels," said Jerome Schupp, a fund manager at Geneva-based firm Prime Partners.
"It's not good to see those images of a major capital," said a trader. "It could hurt the economy."
Highway operator Vinci Autoroutes said the "yellow vest" protests were continuing to have a major impact, although it did not specify any figures in a press release on Monday morning.
Traders said the earnings conglomerate Vinci gets from its motorway concessions could be hit by the protests, which have blocked toll roads across France.
Oil major Total said on Monday several dozen of its gasoline stations had run dry as a more than two-week long protest over fuel tax hikes began to impact fuel reserves and distribution.
The falls came even as France's top stock index climbed 1.7 percent, on track for its best day in a month after a truce in the U.S.-China trade war lifted global markets.