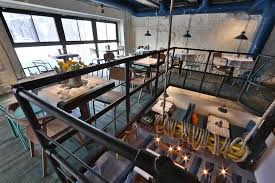 «Odessa-Mama» is a humble city restaurant that prides itself on serving delicious Odessa-style food. Whilst Odessa has a kaleidoscope of charming attractions to offer its guests, we have drawn inspiration from a feature of central importance — the food!
Ah, the people of Odessa do eat well — fresh fish straight from the market, the healthy and enticing scent of aubergine caviar and the salty tears from fresh bryndza sheep cheese are just a few examples of our favourite memories of Odessa!
What is Odessa food?
To unlock the secret of Odessa cooking, we must understand its rich cultural history. Duc de Richelieu, the founder of Odessa, built the city upon foundations of equal opportunity for people of all nationalities and faiths. The culinary result — Russians, Ukrainians, Jews, Armenians, Greeks and Romanians alike all trying to outdo each other in the kitchen!
Over a slow fire in Odessa's kitchens, the best culinary traditions from the neighbouring countries and beyond were thus unified into a gastronomical celebration — embodying the diversity and culture of the city's inhabitants.
Alas, here in Moscow there is no fresh herring from the Danube, there isn't even a sea view in sight. Yet, when you are tired of the wet Moscow weather and stressful city life, the best way to lift your spirits in a cosmopolitan city has got to be gathering with friends — and «Odessa-Mama» is the perfect place to do this!
We want every guest in Odessa Mama to experience a sense of joy and comfort — like a sailor returning home to their favourite city after a long voyage. You can snack on lightly salted sardines, show your young son what real «nautical» pasta is, whilst gulping it all down with our traditional horseradish vodka.
Forget about diets, calories and revolutionary gastronomical breakthroughs. Sit down and relax as if you were back at your family home and indulge in the tasty, elegant and hospitable food straight from the heart of Odessa. So that we can all live a life like that!
Contact details ( 2 restaurants ) :
«Odessa-mama» Kievskaya
7, Ukrainsky blvd
Tel : +7 919 764 81 88
Facebook : click here
Instagram : click here
WORKING HOURS:
every day from 11 am to 11 pm
weekday breakfasts from 11:00 till 13:00
weekend breakfasts from 11:00 till 15:00
weekday lunch from 12:00 till 16:00
«Odessa-mama» Chistie Prudi
Building 5/ 10, Krivokolennyy Pereulok
Tel : +7 919 764 81 88
Facebook : click here
Instagram : click here
WORKING HOURS:
sunday – thursday from 11 am to 11 pm
friday and saturday from 11 am to 02 am
weekday breakfasts from 11:00 till 13:00
weekend breakfasts from 11:00 till 15:00
The first floor is open from 6 pm
The first floor is open from 12 pm on weekends