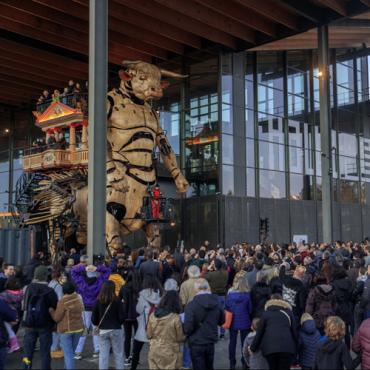 An exhibition of theatrical machines…
Situated on the historic runway used for take-off by the pioneers of the "Aeropostale" airmail service, now known as the "Piste des Géants" (Giants'Runway), la Halle de La machine invites you to discover the collection of street theatre machines designed and made by François Delaroziere and La machine company.
Every day, the "Véritables-Machinistes" (True Stagehands) bring you tales and legends of these mysterious inhabitants made of wood and steel in a constantly renewed setting. Outside, the Minotaur and the Spider take you on board for journeys on their backs.
This is a real immersion in the La Machine company world at the heart of a historic district of Toulouse.
Along with the visit, the Halle de La Machine also offers refreshments in the "Minotaure Café", a shop and bookshop and areas set aside for contact with the public.