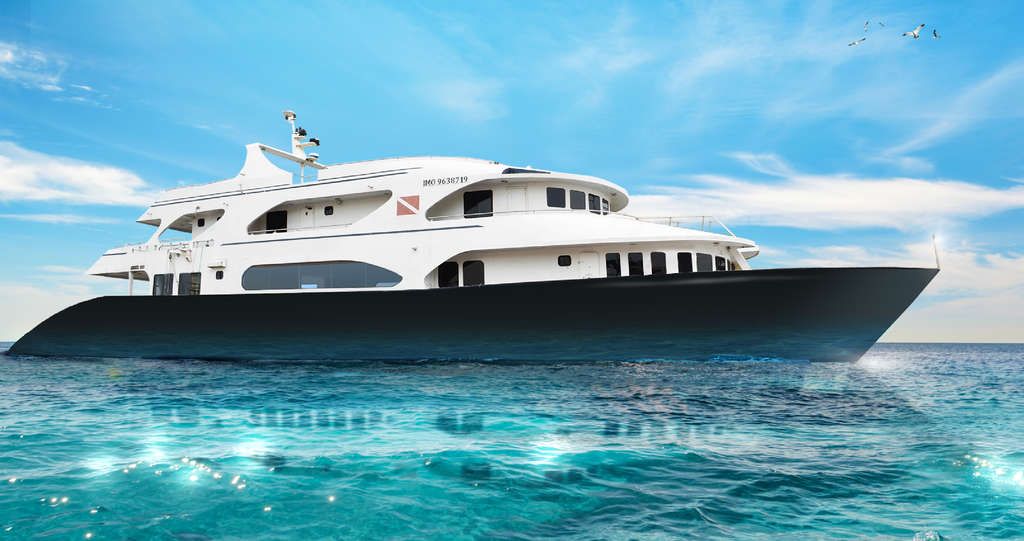 Kontiki Expeditions announces their new association with Small Luxury Hotels of the World™. Kontiki Expeditions first yacht, M/Y Kontiki Wayra, is set to launch May 2021. The first water-based member of the SLH portfolio, Kontiki Expeditions offers sustainable stays off the coast of Ecuador. Guests can choose between two sea expeditions which provide an immersion into the local cultures, traditions, natural surroundings and cuisine of each port.
Small Luxury Hotels of the World™ is a collection of more than 520 independently owned exclusive hotels featuring award-winning spas, country houses, golf resorts, island retreats, city sanctuaries and game, wilderness lodges. And, now, its first luxury small cruise line, Kontiki Expeditions. Each exclusive property commits to a single standard of excellence, guaranteeing travelers worldwide an unsurpassed level of service, quality and luxury. Appropriately fitting into this privileged collection, Kontiki Expeditions prides itself on offering a responsible and distinctive sea and land experience in distinctive, uncrowded settings.
Carlos Nunez, CEO and founder of Kontiki Expeditions, says of the new alliance, "SLH is a prestigious brand worldwide. We are honored to join this consortium as the first water-based member. We are confident that SLH will help us introduce our wonderful new small-yacht cruises to travelers looking for a boutique, personalized adventure. "YOU MAY ALSO LIKE1000 Nights To Say Thank YouSmall Luxury Hotels of the World TM Announces 'Stay Small, Stay Safe' Initiative As Hotels Prepare to Welcome TravellersThe Meaning Of Space For Luxury Hotels & Hospitality: Part 2view allAdds Kenan Simmons, Vice President of the Americas for Small Luxury Hotels of the World, "SLH is thrilled to welcome Kontiki Expeditions – the first ever water-based SLH member – to our impressive portfolio of independently minded luxury hotels. Kontiki's outstanding excursions offer unique and sustainable ways to explore the captivating destinations off the coast of Ecuador, and we are delighted to provide a global support network to celebrate these exceptional expeditions."
The first Kontiki Expeditions yacht, M/Y Kontiki Wayra, is scheduled to set sail May 30, 2021. Introducing with two eight-day itineraries, Kontiki will transport guests to untouristed areas in Ecuador to explore and celebrate the indigenous cultures within a context of wellness. Kontiki's luxury boutique yachts, which have only nine staterooms each, are 128-feet long, allowing them to visit smaller harbors for experiences in heretofore-unvisited areas.
The programs are led by 10 crew members and two local experts committed to sustainability and conscious travel. On-board, wellness professionals, naturalist guides and a local chef add to the distinctive Kontiki experience. Guests can expect to see the country's beloved blue-footed boobies along with sea lions and howler monkeys… without the crowds. Gastronomic experiences featuring local chocolate, seafood, and produce will be enjoyed both on-board and on land.
The yachts are a testament to luxury with a sundeck, a gourmet salon, two outdoor lounges, bar, Jacuzzi, and a gym and fitness area. Guest and crew health and safety are priorities and sanitization and wellness protocols are summarized on Kontiki's website at https://kontikiexpeditions.com/en/health-policy/. Pricing begins at $7,245.00 per person per week, based on double occupancy, and includes all activities, meals, transfers to and from ports, park entrance fees, guided expeditions and more. Solo traveler rate and private charter rates are also available.