Fruit of a beautiful renovation around an old windmill, Il Cardo Resort is situated between Tuscany and Umbria, on the green hills of Valtiberina, a stone's throw from the splendid medieval village of Anghiari.
The place will seduce lovers of beautiful stones, bright skies and nature. It also offers an ideal starting point to radiate towards the main symbolic cities of the Italian Renaissance. The rooms, suites and apartments have been carefully designed to make a stay as pleasant as possible and even make every guest  want to come back.
We sat together with Dania and Pierre, owners of this beautiful resort.
Can You tell us something about the start of your accommodation ? When did you start ?

Dania and I  took over in September 2016 from Dania's mother, who had run the business for 12 years and done the entire restoration of the property.
We came from Brussels, Belgium, to this enchanting region with no previous experience in hospitality business to start a new life after 20 years of professional life in European spheres. To say that this was a challenge is an understatement!
Where are your guests coming from ?
During the year, our guests mainly come from Italy. However, during holidays, especially in the spring and summer, we have many guests from all over Europe, US and Japan.
What type of guests do you attract ?
During the year, we mainly attract couples, who come to relax end enjoy the calm of the place. During the summer, we have many also families and small groups of friends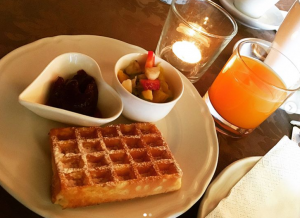 How many rooms do you offer ?
We have 6 rooms and some apartments.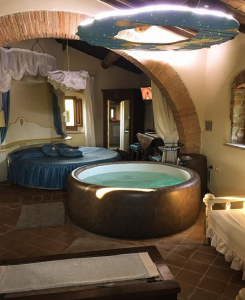 What is unique about your hotel's location? Why would people choose to stay in your neighbourhood? What authentic local experiences will guests have access to?

Our B&B is a 15th century stone house, surrounded by sunflowers fields and oaks, located in Anghiari, a splendid medieval town of the Upper Tiber Valley, between Umbria and Tuscany.
We offer spacious bedrooms decorated with nature inspired lively colours, private bathrooms, swimming pool, terrace, BBQ areas and garden with views on the hills.
Our place will delight nature lovers. We are located in a very peculiar area, where at night there is no other light and sound than the moon and stars shine and owls cries. Skylight is also very special, providing the ingredients for truly memorable sunrises and sunsets.
When is the best time to visit your area?

There is no best time to visit the area since nature here is always beautiful and the medieval villages around offer picturesque views and unique art experience. Each season charm the visitors. Winter with the Christmas atmosphere, antique markets and the tradition of nativities. Fall with the forest turning orange and red, truffle hunting, wine tasting and chestnuts picking. Spring with the delight of wild flowers, hiking, biking and horse riding. Summer with sunflowers and lavender, fly fishing and canyoning, sun bathing around the swimming pool and dining outdoor.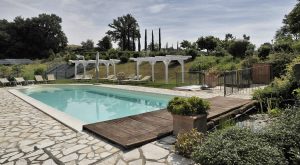 Do You offer arrangements to your guests to visit the area ?
We have all sort of information available for our guests and can arrange guided tours and sport activities on request.
Any funny stories about running this accommodation ?
Not really a funny story but to illustrate how much in the nature we are, we see almost every morning or evening dears in the fields facing the property and even had the emotion of seeing a family of wolves last winter.
Is there any typical meal guests should try when visiting your region ?

We cook for our guests on request and for those who like game meat, cinghiale in umido (stewed wild boar) is the speciality of the house served with local wine. Otherwise, our cuisine reflects both local ingredients and our multicultural background.
Are You planning new services or activities in the next months or years to come?

Art workshops, a blind contour-less drawing stage of a week four time a year. A week dedicated to drawing and learning about Italian art
What's your favourite holiday destination ?

We have a little chalet in the French alps and love to go there whenever we have time to relax and refill our batteries.
What is your favourite part of your job / activity?

Picking fruits and doing marmelades in the summer. Home-made marmelades that we then serve to our guests at breakfast all year round.
Is it possible to use public transport to come to your accommodation?

The nearest airport is Perugia, running flights from and to Paris, Brussels and London during the summer season. Otherwise, Bologna, Rome, Firenze and Pisa are the closest airports. The nearest train station is at Arezzo with buses ensuring the connection with Anghiari. We also provide a transfer service on request.
Thanks, Dania and Pierre for your hospitality …
More information  ? Click below