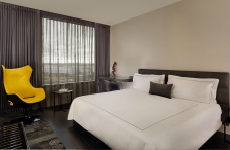 Hotel Jen today marks a new milestone as the first international hotel brand to use autonomous Relay robots in Asia. Teams at Hotel Jen Orchardgateway and Tanglin Singapore welcome colleagues, Jeno and Jena at their respective properties. The duo will deliver amenities and local favourites from the in-room dining menu to guests, when an order for them is placed.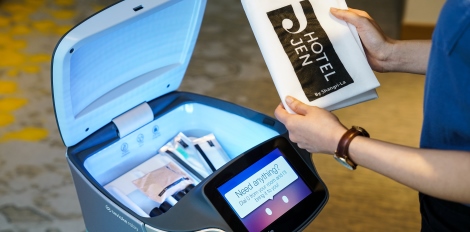 "Hotel Jen is proud to be the first brand in the Shangri-La group to introduce this technology. The new "colleagues" will be great team players in getting important things done well and delivered in Jen's distinctive style. Known to curate playful experiences, Hotel Jen, through the Relay robots, yet again proves that it can surprise and delight urban adventure-seekers," said Cetin Sekercioglu, executive vice president of Shangri-La Hotels and Resorts.
Stationed at the hotel lobby 24/7, both Jeno and Jena are unmistakable in their bright uniforms and Hotel Jen's brand colours – turquoise and pink, affixed with the signature bicycle image that evokes a sense of travel. Inspired by the concept of a butler, Toby Tan (@tobyato) from Band of Doodlers designed a jacket and tie for Jeno, and a scarf for Jena.
The pair stand at almost one metre tall and come with the ability to move unmanned around the hotel at a safe speed of 2.5 km/h, half that of the average human walking speed. They can ride the elevators, make phone calls to rooms upon arrival, and are equipped with sensitive sensors that know to avoid obstacles in its path.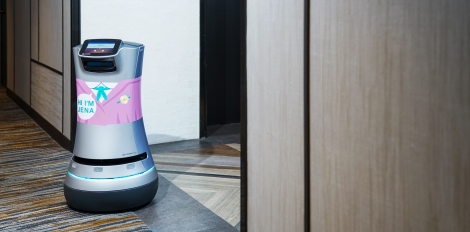 Jeno and Jena are both integrated with a software system that can easily track their to-do list once an order is placed. Need an extra towel or bottle of water? Guests can expect one of the pair to have these delivered within 15 minutes from the time of request. Midnight hunger pangs can be eased from a supper menu featuring local flavours from midnight to 6 am.
Designed and built by Savioke, Relay is the first fully-autonomous delivery robot that has been deployed in over 70 dynamic busy environments such as logistics, hotels, office buildings, and high rise apartments. Using advanced technology to navigate around people and objects, Relay delivers items quickly, safely, and reliably. Since initial commercial deployment in 2014, Relay robots have made over 150,000 autonomous deliveries.
About Hotel Jen
Catering to urban adventurers, the Hotel Jen brand delivers quality, comfort and value with a playful twist and friendly service. Hotel Jen embraces the love for life and travel, helping curious travellers to leave boring behind through spontaneous experiences, unpublished insights and unconventional perspectives. Launched in 2014, Hotel Jen offers 10 vibrant hotels in some of the best locations across Asia Pacific, including Singapore; Hong Kong; Beijing and Shenyang, China; Manila; Penang and Johor in Malaysia; Brisbane, Australia; and Malé, Maldives. Hotel Jen is slated to open in Kota Kinabalu, Malaysia in 2019. For more information, visit www.hoteljen.com or join the conversation on Instagram, Facebook and Twitter.
About Savioke
Savioke develops and deploys autonomous robots that work in human environments to improve people's lives. The company's flagship product, Relay, is a beautifully simple yet sophisticated delivery robot that increases productivity, revenue, and delight for people across a range of markets, industries, and organizations. Able to operate elevators, Relay is the first indoor delivery robot that works autonomously alongside people in busy environments such as logistics, hotels, office buildings, and high-rise apartments. Founded in 2013 by a team of leading robotics engineers, Savioke is backed by investors such Intel Capital, EDBI, Northern Light Venture Capital, Morado Venture Partners, AME Cloud Ventures, and Google Ventures. For more information, visit www.savioke.com.