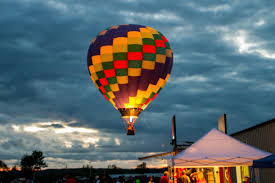 There are all kinds of vacation activities in Maine, but one of the best and most unique is taking a hot air balloon ride for an aerial tour of the area. The best place to take a hot air balloon ride is in Kennebunkport, Maine. Everything beautiful about New England is so obvious floating among the clouds. If you are afraid of heights then a hot air balloon ride is not for you, but if you don't mind heights then you will be overcome with the beauty you see from the basket.
There are several hot air balloon providers that can take you up, but before you book you should talk to past customers or read some reviews. The reason why is that taking a hot air balloon over Maine is such an amazing experience that you don't want to risk running into any problems. So, if you read reviews about the different operators you will have a better chance of finding the best operator for you.
Remember that a full afternoon before sunset or else a couple hours at sunrise should be allotted for your balloon ride because there is no exact time for the tour. Balloons go as fast as the wind takes them, or as slow, so you should just sit back, relax, and enjoy the ride. Know, too, that most balloons carry enough fuel to last for a couple of hours. There are several factors like weather, weight, and more that affect the length of the ride. Most balloon rides occur between 500 and 1000 feet off the ground, but sometimes hot air balloons will go even higher!
Most hot air balloon operators in Maine operate seven days per week, that is depending on the weather. Early reservations are important to make sure you have the day and time you want and weekend flights are the busiest. Weekday flights will give you more flexibility and you may be able to show up last minute and still fly. Remember that it is colder in the balloon than on the ground and a light jacket or sweater should be taken. Several people may go up in the hot air balloon, but generally the limit is four. You will want to talk with the tour operator to find out rates, schedules, and the like.
Hot air ballooning in Maine is gorgeous and if you go during September and October when the leaves are changing you will have a breathtaking experience like no other. Give hot air balloon rides a chance and you will likely fall in love!
There is a website that has great information on USA Vacations and Unique Travel Spots Listed State By State and Season, the website is called: Seasonal Vacation Spots, and can be found at this url:
http://www.seasonalvacationspots.com