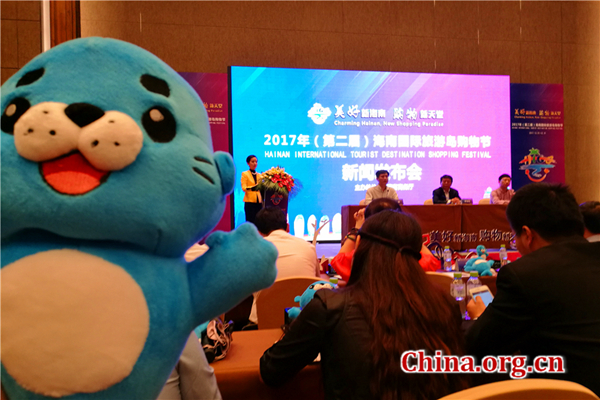 Shopping
Hainan pushing to become an international shopping center
Consumption, a word mentioned many times by Chinese President Xi Jinping during his report to the 19th National Congress of the Communist Party of China (CPC), has been one of the major driving forces of China's economic growth for years, an official of Hainan, a province in southern China, said.
The 2017 Hainan International Tourist Destination Shopping Festival titled "Charming Hainan, New Shopping Paradise" will be held here from Dec. 1 to 31.
Hosted by Hainan Provincial Department of Commerce, the event aims to take advantage of the energy from the recent Double Eleven Shopping Festival, a popular e-shopping festival across China, by extending the craze for shopping by another month to promote consumption.
The event is exactly in line with the guidance in the report, which specified the need to "foster new growth areas and drivers of growth in medium-to-high-end consumption", Li Longsheng, vice head of Hainan Provincial Department of Commerce said at a press conference on Nov. 13.
To this end, the festival will invite retail, catering and e-commerce companies to offer a consumption carnival with multiple promotion activities in Hainan to attract international tourists from across the country and the world. Hainan will continue to create a conducive environment for budget-friendly and convenient consumption of high-quality products and services through joint inspection and supervision of relevant government departments during this event, Li introduced.
The Hainan Pavilion based at Taobao.com will also join the event, and hold four online promotion activities for customers, Wen Hao, head of the pavilion introduced during the press conference of the event. He also promised that all these promotion activities at Taobao.com will be real and valid.
30,000 companies will be accommodated during the event, a great increase from the attendance of around 5,700 at last year's session. Over 20 themed promotion events will be held, according to Fu Jun, director of Market Operation and Consumption Promotion Office of Hainan Provincial Department of Commerce.
These efforts aim to promote business transformation and upgrading as well as consumption structure optimization to achieve a steady and rapid growth of consumption in the province so that Hainan can become an international shopping center, Li said.