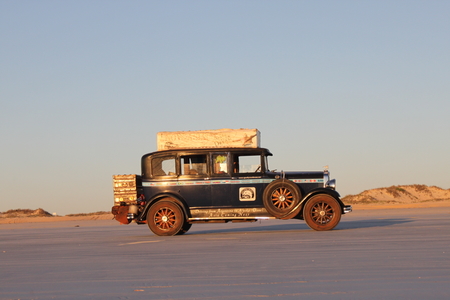 For 17 years now, the Argentine Zapp family has been travelling the world with their four children in a 1928 Graham-Paige Model 610.
This classic car has racked up over 360,000 kilometres. The Zapp family will officially open the third edition of InterClassics Brussels on Friday, 17 November 2017 at 11:00 a.m. together with Sebastien de Baere (director of Autoworld Museum Brussels) on behalf of 'The Big Five', Philippe Close (Mayor of the City of Brussels) and Erik Panis (manager of InterClassics).
The five prominent European museums will be joining forces during the exhibition where they will present their best cars. In addition to the lead theme, a second theme, 'Cycle Cars & Grand Sport, highlighting a forgotten motor history', will also be spotlighted. InterClassics Brussels will be held from Friday, 17 through Sunday, 19 November 2017 at the Brussels Expo.
In 2000, Herman Zapp left on a trip with his wife, Candelaria, and the original plan was to travel from Argentina to Alaska with only 3000 Euros in their pockets. One could say that the trip got completely out of hand; 17 years and over 360,000 kilometres later, the couple added four children to their family who were born in the United States (including Alaska), Argentina and Australia. During this time, the Zapp family visited more than 83 countries and on Friday, 17 November, will be adding Belgium as the 84th country on their list. After Belgium, the itinerary will include France, Spain, Portugal, Morocco and the Canary Islands, among other destinations. The Zapp family (and their car, of course) will be present during InterClassics Brussels, where they will be more than happy to talk about their adventures and share anecdotes with the visitors and other exhibitors at the event.
InterClassics Brussels will be held from Friday, 17 through Sunday, 19 November 2017 at the Brussels Expo. The classic car trade exhibition traditionally attracts many buyers, enthusiasts and daytrippers. With 40,000 m2 of exhibition floor space for 400 exhibitors, InterClassics Brussels is the largest classic-car event in Belgium. InterClassics Brussels is being organised by MECC Maastricht. Admission tickets are available for purchase online at a discount: online price for adults: €12.50 (normal price at the door for adults: €15.00). Children 12 and under: free of charge. www.interclassics.be