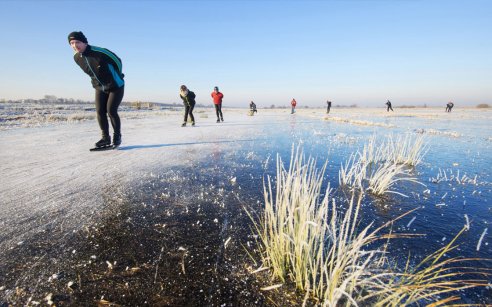 As soon as temperatures drop below zero the Dutch are brimming with excitement about the legendary Elfstedentocht, the world's most prestigious speed and leisure skating events.
When the temperature drops below zero for a couple of days, the eleven cities fever starts to spread in Holland. A minimum ice thickness of 15 cm is required before the Koninklijke Vereniging De Friesche Elf Steden (Royal Frisian Eleven Cities Association) will approve the ice-skating tour. As the name says, the route of the world's longest ice skating competition on natural ice runs through 11 Frisian cities. The members of the association start in Leeuwarden early in the morning. The 'tour to end all tours' starts when dawn is still hours away.
Which eleven cities make up the Elfstedentocht?
Starting in Leeuwarden, the competitors skate clockwise to Sneek, IJlst, Sloten, Stavoren, Hindeloopen, Workum, Bolsward, Harlingen, Franeker, and Dokkum, finishing in Leeuwarden. The fastest skaters take about 7 hours to complete the 200 kilometer track. Competitors have until midnight to reach the finish line.
Want to experience the Elfstedentocht?
Only members of the association are allowed to participate in the tour. With an eye to safety on the ice, a maximum of 16,000 skaters are allowed to participate. But the atmosphere is absolutely fantastic. On the day of the tour, life throughout the province of Friesland revolves around the event. You will be able to experience real Dutch 'gezelligheid' (pleasantness) in every town along the tour itinerary!