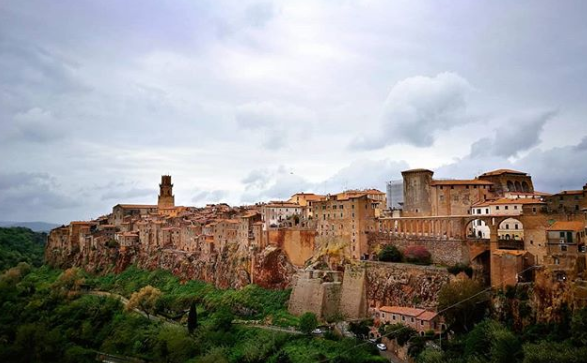 The Province of Grosseto lies in southern Tuscany and reaches from the slopes of the Colline Metallifere (Metalliferous Hills) to the border with Lazio, comprising the multifarious landscapes of the Maremma.
The coastline between the Gulf of Follonica and the mouth of the Chiarone River offers sceneries of singular beauty dominated by pine forests and crystal-clear waters. It is home to famous resorts such as Marina di Grosseto, Principina a Mare, Castiglione della Pescaia, Punta Ala and Punta Talamone.
Tourist destinations of international renown include Porto Santo Stefano and Porto Ercole, the two pearls of Monte Argentario – the green promontory stretching out to the sea and surrounded by a high and rocky coastline. It is connected to the mainland by the long sandy beaches of Giannella and Feniglia, nicknamed "the necks". Pristine landscapes and magnificent views are the characterizing features of the Islands of Giglio, Giannutri and Formiche di Grosseto, favorite diving spots thanks to the population of colorful seabed flora.
The hinterland is also rich in possibilities. In the Monterondo Marittimo area of the wild Colline Metallifere, the Biancane Natural Park is just waiting to be discovered. An area noted for the emission of hot, white steam from the depths of the earth, it boasts extraordinary landscapes and a surreal atmosphere.
Another typical environment here is Maremma Grossetana, where the wide plains of Ombrone, Fiora and Albegna intersperse with hills.
The Maremma is the land of the buttero (the typical local cowboy), of authentic local products, of rural traditions handed down over the centuries, and of pure, wild nature.
Numerous protected zones thrive in this area, including the Parco Naturale della Maremma e Monti dell'Uccellina; the Natural Reserve of the Lagoon of Orbetello, an immense mirror of water that welcomes many species of birds every season; and Burano Lake, a magnificent coastal saltwater lake and WWF Oasis.
In the southeastern corner of the Province, the so-called "Tufo area" is characterized by erosive phenomena, beautiful villages and very important Etruscan necropolises.
Apart from its natural beauty and the variety of its environments, the Province of Grosseto is home to considerable artistic heritage, art settlements, small and fascinating centers impressed by the Middle Ages and Renaissance, and archaeological sites that conserve Roman and Etruscan finds.
A rich gastronomic tradition and the excellent local wines add an extra touch of magic to this fascinating land.