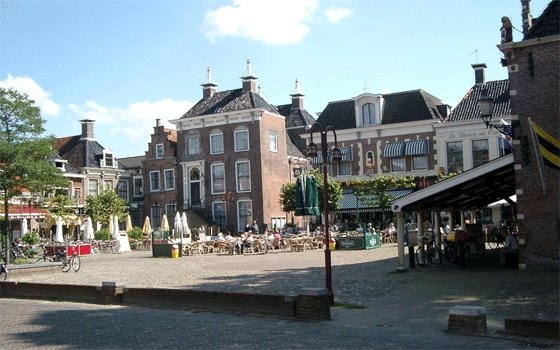 Workum is one of the most beautiful Frisian Eleven Cities, Even if only for its beautiful facades, monumental buildings and water-rich surroundings. Saint Gertrude's Church, weigh house and city hall are definitely worth a visit. Workum is popular among water sports enthusiasts because of its great location. Art lovers can visit the Jopie Huisman Museum, among other things.
Jopie Huisman Museum
Meet the most famous resident of Workum at the Jopie Huisman Museum. Jopie Huisman was a self-taught painter who was known for his realistic works. He loved eternalizing regular people and scenes on canvas. The audio tour is recommended to gain an even deeper understanding of this special painter.
Kite surfing on the IJsselmeer
Workum is a real paradise for kite surfers. Since the IJsselmeer is fairly shallow and placid here, Workum is very popular among water sports enthusiasts. You will find plenty of surf schools where experienced kite surfers can rent equipment or beginners get lessons. Even if you prefer renting a boat, wind surfing or supping, Workum is the place to go.
11 Fountains
British artist Cornelia Parker has taken the rampant lions of Workum – animals which have for centuries been the bearers of the city's coat of arms – and made them the leading actors in her work for the 11Fountains project. Liberated from the coat of arms, for her fountain they become larger than life, filling the empty space that sits between them by firing water at each other from their claws. The lions were carved from Accoya wood by a local artist and worked on by three Workum companies for the 11Fountains project, in which artists created a permanent monument for each of Friesland's 11 cities for the European Capital of Culture celebrations of Leeuwarden-Friesland 2018.