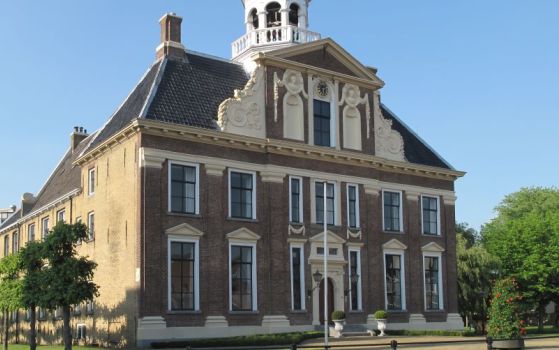 Discover Heerenveen, a quintessentially Friesian city full of beautiful monuments and unique structures set amid a stunning landscape!
Heerenveen, which was founded around 1550, is the oldest peat channel village in Holland. It is located in the water-rich province of Friesland and a wonderful destination, particularly in summer. Not only are there more than 30 national monuments to explore, the landscape surrounding the city is wonderful as well. You can go to the beach, to the forest or enjoy countless water sports.
As we already mentioned, the centuries-old city of Heerenveen boasts many historic alleys and buildings, and there are countless monuments to explore. One of the must-see monuments is 'De Crackstate'; a beautiful structure embraced by a moat, commissioned by Johannes Sytses Crack in 1648. Today this stins, the local name for a fortress or manor, is used as city hall and wedding location.
Another wonderful stins is 'Oenemastate' on the city square, which dates from 1640. Don't miss it! The icing on the cake is that this stins has been converted to a beautiful café, so you can conclude your visit with a cup of coffee or typically Friesian herb bitter.
Finally, the famous 'Welgelegen' windmill is a monument that's definitely worth a visit. Originally built as a grain and chaff mill, it is now the only remaining structure from a series of seventeen mills that were dotted around Heerenveen from the 15th century.
Once you have seen all the historic buildings you wanted to see, indulge in some wonderful shopping in one of the city's pleasant shopping streets. Explore the Dracht, Sieversstraat, Lindegracht, Pleinweg, or Vleesmarkt and discover the countless great stores.
Heerenveen is a little more than an hour away by car from the capital of Amsterdam and Amsterdam Airport Schiphol. The city is also easily accessible by train. If you travel by car, make sure to check where you are allowed to park your car.
The city center of Heerenveen offers paid parking. You can park your car for as long as you like and the rates are fair. Free parking is available at the Abe Lenstra Stadium and nearby parking lots (except during soccer matches). The parking lot KR Poststraat is also free of charge. All these parking lots are within walking distance (10 minutes or less) from the city center.