In our December edition you could read about Deluxe Holiday Homes in Dubai and the fully furnished holiday apartments (Managing 350+ properties in Dubai) they offer.
Did you know that they also have 20 holiday villas available in Dubai's most exclusive areas? If you're looking for a villa with luxury amenities and extended hours of customer support…Deluxe Holiday Homes is your partner! Their user-friendly and interactive website gives you a fantastic overview of all available rental villas. 4 to 9 Bedroom Villas with Private Pools and beach access in Dubai are waiting for you.
If you like golf and its relaxing atmosphere then maybe you should have a look at this first-class, ultra-luxurious holiday mansion within the golf community of Emirates Hills.
This mega mansion is reminiscent of a palace but with a contemporary touch, modern furnishings, spacious layouts, and rooms with different characteristics. Of course, you have your private swimming pool to relax but also a fitness and gaming room in the basement. Game room includes Billiards, Play Station, foosball table, and card & board games. In addition, there is a well-equipped kitchenette and a home movie theatre.
Palm Jumeirah, one of the most luxurious areas in Dubai is home to many of Deluxe Holiday Homes villas overlooking the beautiful Arabian Gulf, The Palm and Jumeirah skyline.
This mansion, inspired by the Victorian era, is castle-like yet modern, with hints of gold and black adorned with calming lights, making you feel like royalty. Consider opulent black chandeliers, Victorian floral art paintings, and royal corridors.
The private heated swimming pool promotes health and wellbeing, and the grass area provides direct access to the gorgeous beach, which is reserved for Palm Jumeirah residents and visitors.
This 5-bedroom holiday villa on the Palm Jumeirah is another luxury property that focuses on connecting with nature while providing an authentic Dubai luxury experience.
The Deluxe Holiday Homes Interior Design Team created spacious living spaces and bedrooms that were all designed to be pleasant. For the kids and kids-at-heart, there is a game room with darts, football, and a coffee nook. Whatever you're doing, you're living in one of Dubai's most elite neighborhoods.
If you're looking for a 6-bedroom villa in Palm Jumeirah with private swimming pool this might be your ultimate place to stay.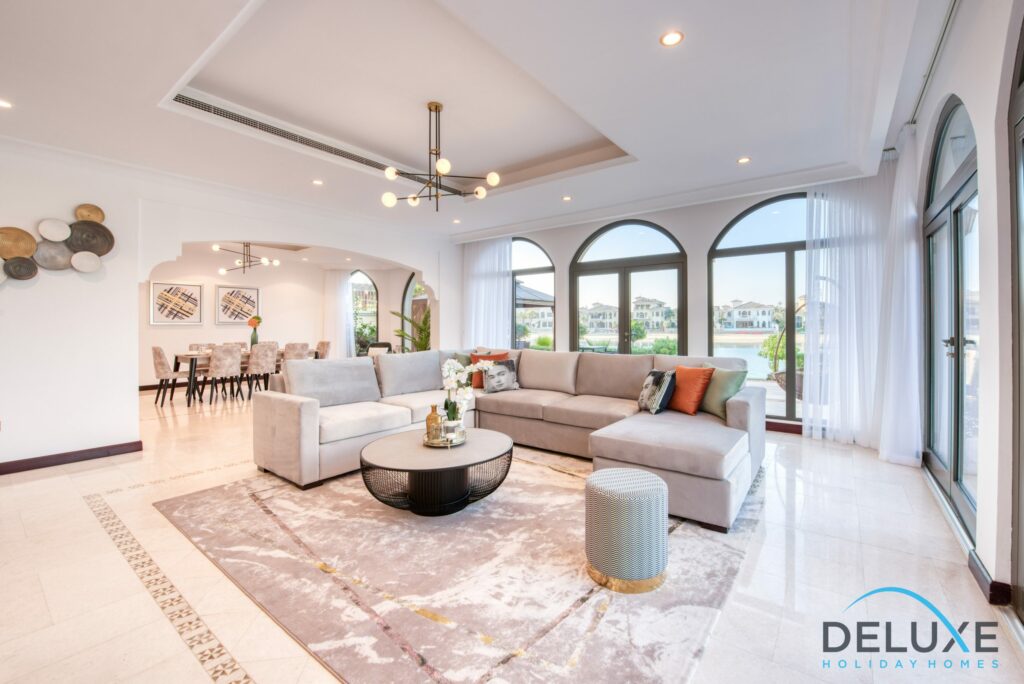 An exceptional interior design and beautiful mix of elements relaxes you away from the hustle and bustle of the city.
With a spacious living room and an 8-seater dining set, you're ready to celebrate your holiday and life with your family and friends. A private pool, direct access to the beach, sun loungers, hammock and grass area for your daily yoga moment are waiting for you.
The upper floor offers 4 majestic bedrooms and the Master's bedroom balcony offers a fantastic view of the neighborhood.
Finally, we couldn't resist to show you this amazing, iconic independent villa at The Fronds of Palm Jumeirah. This is not just a location; it's considered as one of the most prestigious and prime locations in the World!
This villa, aside from the private swimming pool, has its own private beach, as well as spacious landscaped garden, barbecue and sunbeds. The 6 bedrooms are spacious and all of them are "En-suite" with bathrooms attached and accessed directly from the rooms.
There is a private beach directly accessible from the backyard. The location is very convenient as you can access the neighboring areas such as Dubai Marina, Jumeirah Beach Residence, and Bluewaters Island in less than 20 minutes.
More information and Reservations: +971 58 508 0202 / +971 55 307 0444 / +971 4 392 0202