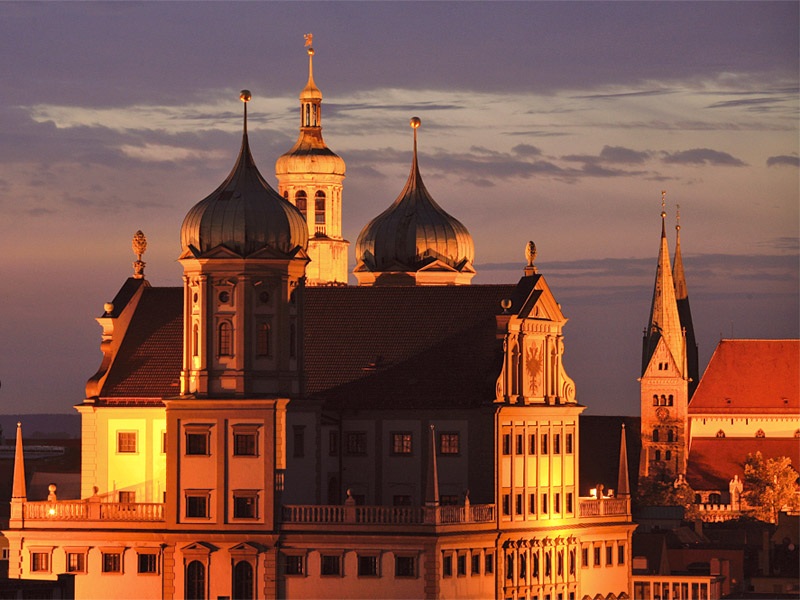 A Capital and seat of the government of Swabia, university city, diocesan town since the 5th century. Of special interest: the heart of the city centre with its Renaissance character and with a beautiful boulevard
Augsburg is a modern city of fairs and congresses, with flair of a 2000-year-old free imperial city. Of special interest: at the heart of the city centre with its Renaissance character, the City Hall, the Perlach Tower and the Augustus fountain, Maximilianstrasse, southern Germany's most beautiful boulevard with its Mercury and Hercules fountains, Schaezler Palace and St. Ulrich churches. A walk through the Fuggerei, the oldest social settlement in the world, is an absolute must for any visitor. The cathedral district, the old town crisscrossed with canals, and the birthplaces of the writer Bertolt Brecht and of the ancestors of Wolfgang Amadeus Mozart are further tourist attractions. The Fuggers and Welsers were two of the City's most famous merchant families during the Renaissance. Twintowns are Dayton/USA, Bourges/France, Inverness/Scotland, Amagasaki and Nagahama/Japan, Liberec/Czech Republic.
Numerous splendid edifices mark the view of the historical town centre. The "Golden Chamber" ("Goldener Saal") inside the Renaissance town hall by Elias Holl and the Perlach Tower, the "Fuggerei"- the oldest social settlement of the world-, the cathedral with its lead glass windows (depicting five prophets) from the 12th century, two churches dedicated to St. Ulrich, St. Anna's church with the "Lutherstiege" (memorial site for Martin Luther), Schaezler- Palais with its Rococo Hall and the three monumental fountains.
There are numerous well-known museums with outstanding collections in Augsburg: The Roman museum, Maximilian museum showing a representation of 2000 years of town history as well as gold- and silver forging by Augsburg artists, the German Baroque Gallery inside the Schaezler- Palais, the Diocesan museum, the Fuggerei museum, the "Puppenkisten – museum" ( showing the history of the famous Augsburg puppet theatre), the birth house of Bertolt Brecht with a display of his life and works and the "Mozart House", a memorial site for Wolfgang Amadeus' father Leopold Mozart who was born here