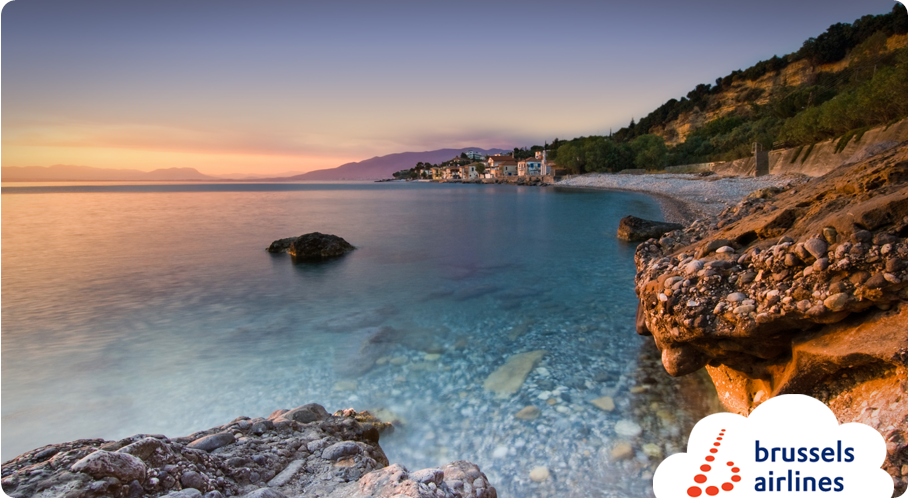 Next summer, Brussels Airlines sets sail for a new Greek holiday destination. Currently not directly served from Brussels, Kalamata will be connected to Brussels Airport on a weekly basis.
Located on the magnificent Peloponnesus peninsula in the heart of Messenia, the Kalamataregion is one of the fastest growing tourism destinations in Greece. Since the development of the regional airport some years ago, Kalamata has been picked up by many French, German, Italian, British and Scandinavian travelers.

Thanks to Brussels Airlines' new service that starts on 28 April 2018, Kalamata will also be reachable from Brussels Airport with just a 3 hour flight.

Flight Schedule Brussels Airport (BRU) – Kalamata (KLX) in local time
| | | | | | | |
| --- | --- | --- | --- | --- | --- | --- |
| Flight nr | Day of the week | From | Departure | To | Arrival | Flight time |
| SN3235 | Saturday | BRU | 15h55 | KLX | 20h00 | 3h05 |
| SN3236 | Saturday | KLX | 20h50 | BRU | 23h15 | 3h25 |
Azure blue sea, beautiful sandy beaches, endless olive gardens home to the world famous Kalamata olive, 4500 years of history and a paradise for foodies…
The Kalamata region has all the ingredients for both an active, cultural and historic holiday as well as a relaxing family holiday. The city of Kalamata is well worth a visit and is the perfect starting point to discover the region. Historic places like Olympia, Methoni, Nafplio and Mystros are nearby. Also the theater of Epidaurus is not far away.
Very popular are the Costa Navarino resorts where a few beautiful luxury hotels are integrated in the idyllic landscape.