Are You looking for a nice retreat in the outskirts of Milan? Close to Fiera Milano RHO ? B&B Fiera Milano Rho is the perfect place for tourists looking for a stay in a quiet area of Milan. You are only 20 minutes away from the city center if you take the metro. Business travellers who are exhibiting or visiting Fiera Milano Rho have the perfect place to relax after a day of hard work.
We had a chat with Mrs Lorena, who is running with her husband this accommodation.
Can You tell us something about the start of your accommodation ? When did you start ? Did You had any previous experiences in hospitality business ?
My family is one of simple traditions and the need to leave something tangible to our children is part of our DNA; to us, the tangible stuff for the future, as our grandparents used to say, is the home.
So we bought the building of Via Sempione 135 in Pero, my place of birth.
A building abandoned for years, one of the first houses in the country; I still remember when, at the first entrance, we found ourselves in a house where, apart from the dust that covered everything, it seemed that time had stopped. The cup in the sink, the unmade bed with a nightgown resting on it, the open chest with the linen stacked in order.
For structural reasons we had to demolish and rebuild: a small cobblestone court and a two-storey building with three apartments: we had now our future but we wanted to use it in the present and we decided to use it to "host".
We launched ourselves into a new world, following the advice of friends who were already working in tourist accommodation with homes for holiday.
We have worked hard, we had documents to prepare, requests for authorizations to be forwarded, Municipality, Region, Police Headquarters but with tenacity we did it!  And I must say that I also had fun: I spent weeks for shops to furnish my apartments! Finally, after choosing the web portal through which receive reservations, we took off! ……… .. from May 2017 we are in the world of tourism and hospitality.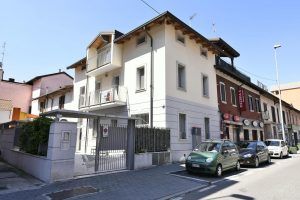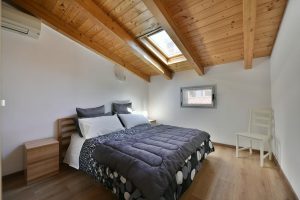 Where are your guests coming from ?
The proximity to Fiera Milano Rho makes my structure more easily attractive by operators or visitors to the Fair, both Italians and foreigners. The Foreigners are, in greater percentage, coming from China. Followed by Eastern Europe, Spain and the United Kingdom.
What type of guests do you attract ?
Most are guests who travel for business purposes; Compared to the offer home-vacations in the area where I am, our structure is positioned in a medium-high range and therefore they are customers who prefer high quality standards: demanding but correct, careful but respectful of the rules of the house.

How many rooms do you offer ?
we have three apartments each all with two bedrooms,: a single and a double one each. If necessary, and only on specific request, the sofa in the living area can become a two-seater sofa bed.
What is unique about your hotel's location? Why would people choose to stay in your neighborhood? What authentic local experiences will guests have access to?
The position of my structure is unique because:
1) It is close to Fiera Milano Rho, so you can reach it on foot with a comfortable walk.
2) It is close to the Expo area.
3) It is 200 meters from the "Pero" station of the Milanes Red Underground Line, the oldest one, which connects it to the center of Milan.
4) It is in the center of the village and benefits from all the services, from the bank to the post office and it's served      by bars, restaurants and shops of all kinds.
5) It is close to all of the direct highway connections , for every possible directions
My structure, as well as being perfect for the audience of fair operators, is also very convenient for those who want to do tourism in Milan, as it gives the opportunity to take advantage of the convenient "Pero" Red Underground station, which in 20 minutes connects easily Piazza Duomo and that offers a convenient connection even to reach the main shopping districts of the city, including the brand new Citylife shopping male, the famous "Quadrilatero della Moda" and the Buenos Aires Area
By the way, even the Ex Area Expo,  is very close to be reached
We are 300 meters from AEROGRAVITY the world's largest freefall simulator.
A unique and unforgettable experience! Supplied helmets, overalls and shoes, everyone from 3 YO upwards can live this experience …. to take your breath away. Always in safety under the guidance of attentive and friendly instructors.
When is the best time to visit your area?
Milan is becoming a metropolis of great tourism interest and this makes it attractive non stop around the years: art sites, historic churches, museums, art galleries, the "Last Dinner " of Leonardo da Vinci, can be visited all year round.  Let's not forget the period of winter and summer end-of-season sales, January and July.
In spring or summer , if you rent a car near my home,  in 30 minutes you can visit the wonderfull regions of the Italian northern lakes: lake of Como, chosen as resting location even by George Clooney and Lake Maggiore, with the the beautiful villas, famous for the well know Italian style gardens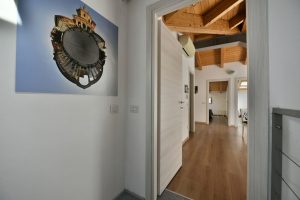 Any funny stories about running this accommodation ?
The customers often forget goods and stuff inside the house, but the record was reached by a german lady who, after a weekend of shopping, forgot a suitcase set by Louis Vuitton, a bag, a  trolley, wallet and belt, just bought.  a little forgotten fortune, that we found and delivered with great relief of the guest!
Is there any typical meal guests should try when visiting your region ?
The Italian cuisine is famous in the world and also in Pero we have excellent restaurants that offer typical local cuisine well prepared at good prices, pizzerias and ice cream parlors.
But Milan city is the best place to find restaurants or starred Chefs, excellent gastronomy, good wine bars and typical pastries of every Italian Region. There is everything for all the most refined tastes
Are You planning new services or activities in the next months or years to come?
I was thinking of make arrangements with a coffee shop to offer breakfast at cheaper prices and to arrange a rack with bicycles to give customers the chance to move on two wheels.
What's your favourite holiday destination ?
Sea. I love Milan, my city, if only we had the sea it would be the top of the top!
What is your  favourite part of your job / activity?
The reception and the direct relationship with the client: I like to identify myself with the people I receive.
I was lucky enough to  have traveled a lot, and I know what it means to face a problem alone in a country that is not mine.
I always make myself available with my guests to understand, to help and if possible to solve.
Are there any trends you see emerging in travel industry ? Something which was unexisting or less important before ?
We have  WIFI connection for Internet that is increasingly confirmed, The presence of multi generational families, with children and grandparents, is increasing, and this is the reason why we have an apartment on the ground floor that can be easily accessed  with a place  where to store the strollers.
Have new technologies affected how guests can interact with you?
To make the user experience much more interactive, i created a Google Map of the area and the city with the most interesting Districts, and I made it available  via Smartphone through QR Code:  it's printed on the paper copy of the same map, placed in every apartments
Is it possible to use public transport to come to your accommodation?
The Red Undergroung station, line 1,  is located 200 meters from our building and the underground network is connected to all the transports: trains, planes, taxis, car rentals.
In front of the house there is the public Bus Station,  connecting Pero-Rho with the center of Milan.
Any other particular information which is interesting about your property ?
The formula Home-Vacation reception gives the opportunity to customers to "feel at home": the cooking area is equipped with induction plate, refrigerator, kettle, coffee machine. As a welcome we offer coffee pods, sugar, tea and bottles of mineral water in the fridge.
In the bathroom, equipped with towels, our guests find soaps, shower gel, shampoo, washing machine and detergent, hairdryer and first aid kit.
In the bedrooms, beds are orthopedic and supplied with cotton sheets, duvets and bedspreads.
For guests who stay at home for more time, we supply change sheets, towels and cleaning service
The apartments are equipped with a thermostat to regulate the heating independently and in the summer each rooms is equipped with air conditioning.
Website: www.bebfastitalia.com
E-mail : info@bebfieramilanorho.com