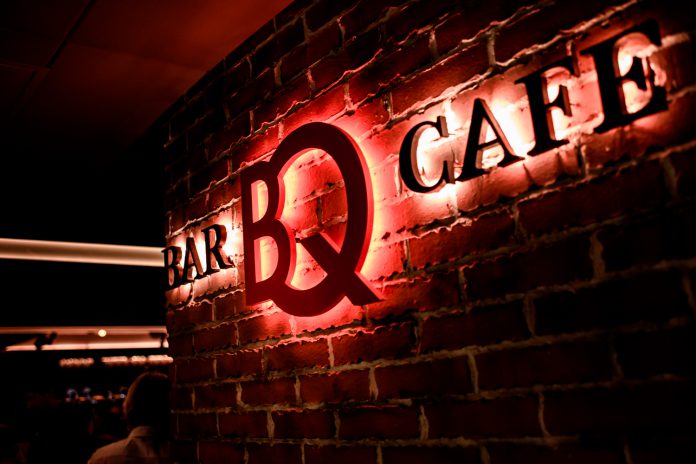 Bar BQ Café is a restaurant for modern urban people, who like tasty meals and prefer to combine pleasure and pleasure.
Specially for these guests we offer diverse menu with an accent on meat dishes, regular parties with best DJs of capital and constant promotions.

The history of Bar BQ Café started in 2010 when the first restaurant in Moscow was opened on Pyatnitskaya street. The concept of a restaurant was created by its owner Henrik Winter and his wife Julia.
Henrik was born in USA and was brought up in France. Starting as a chef he made the whole way up and became the owner of boutique hotel in French Riviera, which was included into Michelin Guide. 20 years ago he moved to Russia and still lives there.
In a couple of years three more Bar BQ Cafés were opened. Now, in addition to the most popular on Pyatnitskaya street, there is one on Trubnaya square, in "Okhotny Ryad" shopping mall with its own terrace right next to the fountains and Alexandrovsky garden, and another one in Khimki in MEGA shopping mall.
The concept is still the same, restaurants are 24 hours open and here you can find dance-flour, high variety of alcohol, hookah and of course great food.

The bar in BQ is something special – in each restaurant the bar stand is a "sole" of a place, where professional bartenders work non-stop. A distinctive feature of bar menu is a hole line of different shots which are served on special rails.


Every last Friday of the month all restaurants hold Tigrus Party. 1% from revenue received on that day is sent to animal fund which helps to preserve tigers in Amur region. As well, clients can make a donation, by ordering a dish with special "tiger cost" or telling about it to the waiter.
Contact :
Bar BQ Café 25, Pyatnitskaya street
+7 (495) 258-09-95
Bar BQ Café build.1/2 Manezhnaya square
+7 (495) 258-09-95
Bar BQ Café 2, Trubnaya square
+7 (495) 258-09-95
Bar BQ Café MEGA Khimki shopping mall
+7 (495) 258-09-95
Facebook : click here
Website : http://barbqcafe.ru/

WORKING HOURS:
Daily from 12 pm to 00 am