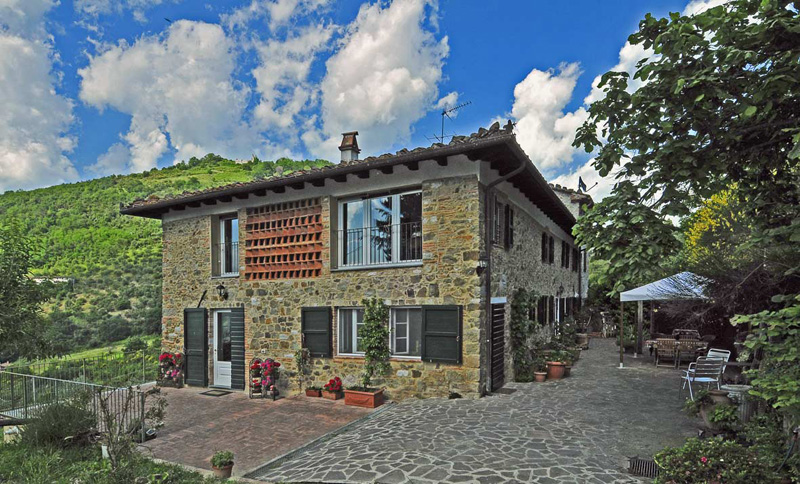 Azienda Agrituristica Abbacca-là is a small organic farm in Tuscany and  sits on a hill along Lucca's beautiful northern countryside in the hamlet of Aquilea, with stunning views over the Valdottavo valley, the high peaks of the Apennines, and the National park in the distance. This is the ideal place to spend your holidays in relax.
We met with Mrs Lella owner of this fantastic accommodation..
Mrs Lella , can You tell us something about the start of your accommodation ? When did you start ? Did You had any previous experiences in hospitality business ?
We bought the farmhouse about 30 years ago when our first son was just a baby of 6 monthes old The farmhouse was really badly conserved, anyhow the location and the view was so beautiful that we understood immediately that it worthed the big work that was necessary for restoring it. We wanted to renovate the farmhouse and live here with our familym at the same time the building was so large that we could also dream to be able to rent a part of it .
At first we renovated a part of the farmhouse where our family moved in 1994, in the meanwhile we had had our second little boy…. and later in 2003 we started to restore all the rest of the building so we were ready to welcome our guests on 2005
Where are your guests coming from ?
Our guests are from different parts of the world : from different countries in Europe especially North Europe, from USA , from Australia, New Zealand, from Italy too
What type of guests do you attract ?
We attract mostly families and groups of friends of every age. Even travellers travelling alone often stay at our farmhouse because they feel to be a part of our family.
How many rooms do you offer ?
We have 3 units : one is a large apartment with 2 double bedrooms + 2 Studios that sleeps 2 people each The large apartment can be adjoined to one Studio so we can have a very large apartment with 3 double bedrooms + 2 bathrooms. The other Studio is separate but just next door. Often we have large families or group of friends that rent the full property, we offer a discount on rentall of full property.
What is unique about your hotel's location? Why would people choose to stay in your neighborhood? What authentic local experiences will guests have access to?
The view from the farmhouse is really gorgeous, we are in front of National Park of Apuane Alps, it is a very peaceful place even if we are so close to Lucca city centre. It takes only 20 minutes to drive to Lucca. The neighborhood is very nice and there is the possibility to visit famous towns like Lucca, Pisa, Florence, Cinque Terre during easy daily trip as well as less famous but not less beautiful places like, Ville Lucchesi ( only 4 km far away), Barga, Castelnuovo, Garfagnana….. Staying at our farmhouse our guests can enjoy their privacy, in fact the 3 units entrances are on a facade and our family entrance is on an other facade , knowing that if they need something we are available. Further they can help or partecipate to our job outside ( olive harvest for example) or they can partecipate to the cooking class where I personally teach my guests how to cook a authentic Italian meal Mostly we prepare together home made pasta or home made gnocchi or pizza and focaccia or….what they'd like to cook…chicken "alla cacciatora" with tomatoes and olives…or tiramisù or semifreddo ….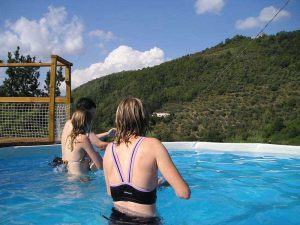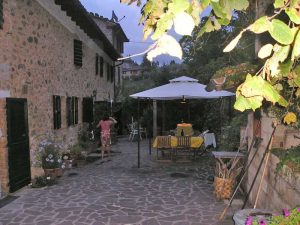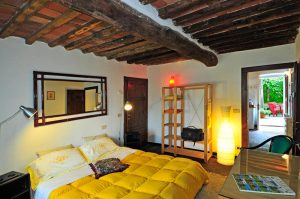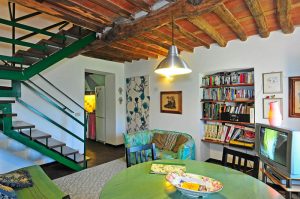 When is the best time to visit your area?
Any season is beautiful even if in a different way ….in summer when is hot you can also enjoy our pool and whirlpool , in spring and autumn it's possible to enjoy whirpool too, in winter is the best peiod for enjoying cities without crowd, enjoying the winter food that is delicious !
At any season my guests can enjoy my cooking classes.
Do You offer arrangements to your guests to visit the area ?
If our guests don't like to drive or don't feel to drive we are available to be their driver-guide to travel around Tuscany. We are very flexible so we can make personal arrangements: often with groups of friends and mostly with group of ladies I drive a van for them and I can let them visit places that is difficult to find if you are not living here We always have fun together.

Any funny stories about running this accommodation ?
If The first year I rented my apartments we had a nice family from England staying here, by chance they were from a little town where I had lived for a while when I was a teenager studying English…many year ago….When I was there I was living with a family, we had been in contact for a quite long time, then I had lost thair traces….the family that came here unbelievably, knew this family very well, so I could contact them again ! The world sometime looks really so little…..
Is there any typical meal guests should try when visiting your region ?
We have many different local vegetable depending on the season you are here….in summer I suggest to try long green beans, we call them " stringhe"that are usually cooked with garlic and tomatoes, in winter what we call " black cabbage "… and many kind of meat, why not the wild boar ?
Are You planning new services or activities in the next months or years to come?
I have my cooking classes about twice a week
What is your favourite part of your job / activity?
It is nice to meet new people, most of my guests are really very nice and interesting people. People coming here know exactly what they are going to have :a real authentic Tuscan place, beautiful, peaceful, warmly welcome with all conforts but not luxury, probably that's why we don't have disappointed people. Really very often people arrive as guests and leave as friends and we keep in contact after their departure.
Have new technologies affected how guests can interact with you?
Internet helps a lot, we usually have many emails from our guests, can arrange easily everything beforeour guests arrival , we know their needs in advance
Is it possible to use public transport to come to your accommodation?
Public transport is quite difficult that is why we usually say the car is necessary and that is why we are available to drive for our guests. Some times we had guests staying here without a car and withour our driving service, so it is possible but it is necessary to know that is not so easy.
Contact details :
Azienda Agrituristica Abbacca-là
di Donatella Sechi
Via di Carpineta, 2061 – 55100 Aquilea, Lucca (LU)
Toscana
Italia
www.abbaccala.it 
info@abbaccala.it