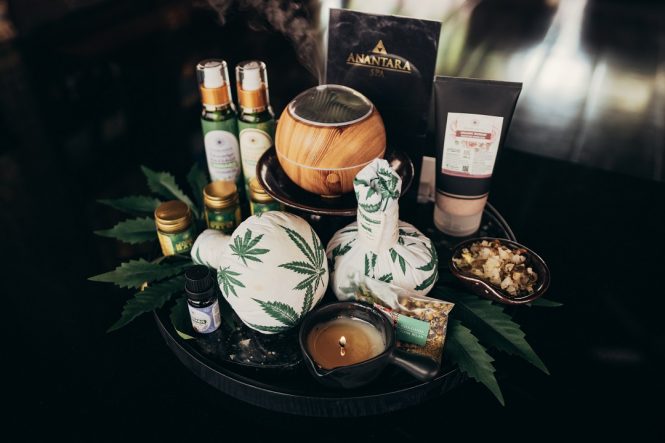 The powerful properties of cannabis plants have been harnessed for millennia by healers seeking its medicinal benefits. Rich in antioxidants, anti-inflammatory compounds and pain reducing properties, the medicinal purposes of cannabis have been brought back to the forefront of alternative therapies as part of the recent decriminalisation of certain parts of the plant in Thailand. Utilised across central Asia for centuries, Anantara Spa in Thailand is now bringing this traditional compound to the twenty first century with a series of brand new luxurious spa treatments showcasing the plant's myriad benefits from calming the mind to pain relief and more.
Restful Slumber Journey
Perfect for jet-lagged travellers, this 90-minute wind down treatment begins with a stress releasing soak in a cannabis salt laden bath. Tired limbs are kneaded in a full body massage using either cannabis-lavender oil to calm redness and puffiness or cannabis-rice milk to improve skin elasticity and moisture retention. Finish the treatment with a soothing cup of cannabis tea with CBD benefits to relax the mind and body, ridding any anxious thoughts and preparing you for a deep and restful night's sleep.
Cannabis Stress-Release Journey
Reverse the debilitating effects of office syndrome or back and neck pain using the healing powers of cannabis in herbal and essential oil form. Combining the pain releasing properties of cannabis with the art form of traditional Thai herbal compress ball, Luk Pra kob, creates a dynamic duo capable of tackling even the deepest of muscle knots. The cannabis infused herbal compress ball induces deep relaxation, melting away tension along the spine and boosting guests' emotional and physical wellbeing. Enjoy improved postural alignment and blood circulation and leave the treatment room floating on air.
Head to Toe Calming Journey
End a long day of sightseeing or a vigorous Muay Thai session with this top to toe treatment. Beginning with a calming cannabis foot soak ritual to release swelling and water retention, next a blissful scalp massage using cannabis infused coconut oil releases tension and transcends guests to the tropics. The benefits of foot reflexology have long been recognised to restore the body's natural balance and combining the physical manipulation with cannabis balm, traditionally used by Thais to reduce congestion and muscle tension, is the perfect answer to relieve deeper pains and repair damaged skin.
The new menu of cannabis spa treatments will be available at several Anantara Spas across Thailand including Anantara Siam Bangkok Hotel, Anantara Riverside Bangkok Resort, Anantara Chiang Mai Hotel and Anantara Bophut Koh Samui Resort.
Journey with Anantara Spa and explore a whole new world of healing.
For more information about spa and wellness with Anantara Hotels and Resorts, visit anantara.com/en/spa-and-wellness