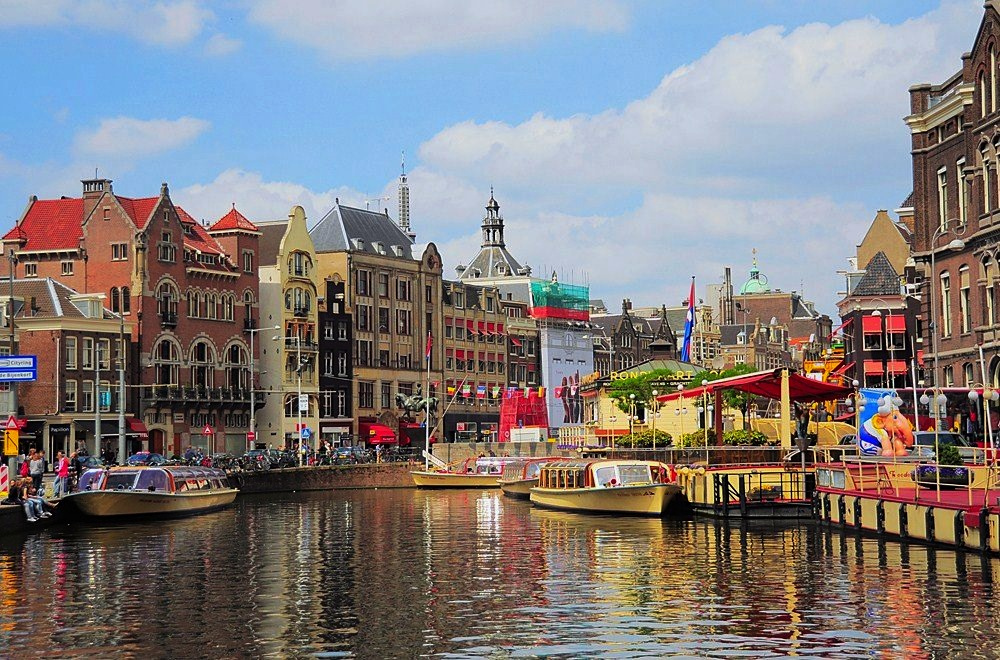 Amsterdam has been named as the most attractive European city for hotel investment for the second consecutive year, according to an annual survey of senior hospitality industry leaders by Deloitte. In addition, almost a third (32%) of hotel investors expect millennials to drive business for the hotel and leisure sector over the next five years. The findings come following the 29th annual European Hotel Investment Conference in London.
Dutch continue to master
Following a slowdown in investment volumes in 2016, largely as a result of a lack of supply in the sector, the market has seen encouraging investment flows in 2017 with volumes increasing by c.6% in H1 2017 compared to the same period last year.
Amsterdam has retained its position as the most attractive hotel investment destination in Europe, with almost a third (32%) of respondents ranking the Dutch capital top. Barcelona (25%) and Dublin (25%) followed, while last year's second-place city, London, slipped to fourth (23%, down from 32% in 2016). Madrid (22%) completed the top five.
Andreas Scriven, head of hospitality and leisure at Deloitte, comments: "It is not surprising to see London slip down the pecking order, with concerns of over-supply, high pricing and uncertainty starting to bite. Investors may be questioning how much value they can get out of the city, despite the weak pound and the city being a standout destination for both business and leisure. Interestingly, the majority of hotel investors still remain bullish on the UK capital – around 60% expecting to see pricing multiples of at least 16x in the next 12 months.
"Amsterdam can expect to see further inbound investment. We are also seeing evidence of Barcelona and Madrid being highly sought-after from North American private equity houses, driven by Spain's economic recovery, favourable yields and asset availability. Dublin has also recorded significant RevPAR growth in recent years supported by constrained supply and investors expect this income growth potential to continue into 2018."
Industry concerns
More than two-thirds (67%) of hotel investors said that terrorism was the main risk to the European hotel industry over the next five years, followed by lack of economic growth (50%) and black swans (28%).
Scriven adds: "Hotel investors are having to contend with a number of macro elements that are out of their control, including terrorism and political and economic uncertainty across Europe.
"However, a lack of stock in general also remains an issue. The survey respondents cited that Spain, Ireland and Germany are in the upturn of the investment cycle: a sign of demand outweighing supply."
UK university towns to see investment boost
For the fourth consecutive year, almost half of the respondents identified Edinburgh as the most attractive hotel investment destination in the UK outside of London. Manchester (39%) retained second-place, with the university towns Cambridge (30%), Oxford (29%) and Bath (13%) completing the top five.
According to the survey, hotel investors are broadly optimistic about 2018 growth prospects in the Regional UK hotel market, with the majority of respondents expecting RevPAR growth to be between 1-3%. Growth is expected to be highest in the larger cities, including Edinburgh, according to 32% of respondents, and Manchester (28% of respondents). However, when asked about 2018 expectations for gross operating profit per available room (GOPPAR), respondents were more pessimistic, with a quarter (25%) expecting no GOPPAR growth in the Regional UK.
Nikola Reid, director and head of UK hospitality at Deloitte comments: "The Regional UK market remains in good health and continues to attract overseas investors, particularly those looking to take advantage of the recent currency devaluation and flourishing leisure demand.
"Edinburgh and Manchester are robust hotel markets with strong occupancy levels and have a track record of absorbing new supply. Appetite for hotel investments in the UK university towns of Bath, Oxford and Cambridge is not surprising due to high barriers to entry and their strong leisure appeal in the wake of tourism from overseas while the pound remains weak."
More than two-thirds of respondents (69%) cited Brexit as the biggest risk to the UK hotel industry, followed by slow economic growth (48%) and a shortage of skilled labour (38%). When asked about the current UK hotel investment cycle, more than a fifth (23%) believe that we have already passed the peak, with a quarter (26%) believing that the peak will occur within the next 12 months. However, 47% of respondents felt that there was more than a year to go before we reach the peak in the investment cycle.
Reid adds: "Hotel investors are anticipating RevPAR growth in the Regional UK market, but rising costs, driven by inflation and recent payroll increases, are clearly at the forefront of investors' minds. Hotel owners will need to think about how they can offset these increasing cost pressures whilst growing top-line growth in 2018 and beyond.
"Several private equity houses are coming towards the end of their holding period and are therefore assessing their exit strategies, and this could be impacting investors' views of where we are in the investment cycle. Nevertheless, we are continuing to see interest in single asset and portfolio deals, indicating that we may have some time to go before the cycle peaks."
Millennials to drive future growth 
Looking to wider industry trends, almost a third (32%) of hotel investors expect millennials to drive business for the hotel and leisure sector over the next five years. According to the survey findings, just 16% of respondents expect baby boomers to drive revenue in the short term, despite this age group having proportionally greater levels of disposable income.
Scriven concluded: "Hotel investors have identified millennials as the key drivers for future growth. Hoteliers and leisure companies will need to adapt their business models in order to appeal to these younger, tech-savvy consumers. Indeed investors are acutely aware of this with 38% of the respondents citing they would invest their own money in small, innovative and upcoming hotel companies, compared to just 8% saying the same for established companies. Established chains need to adapt and innovate in order to continue their growth story and compete with the disruptors entering the industry.
"However, at a time of rising cost pressures and squeezed incomes, it may be that older consumers will be more likely to have the spending power for city breaks and longer holidays in the near term and this segment is not to ignore.