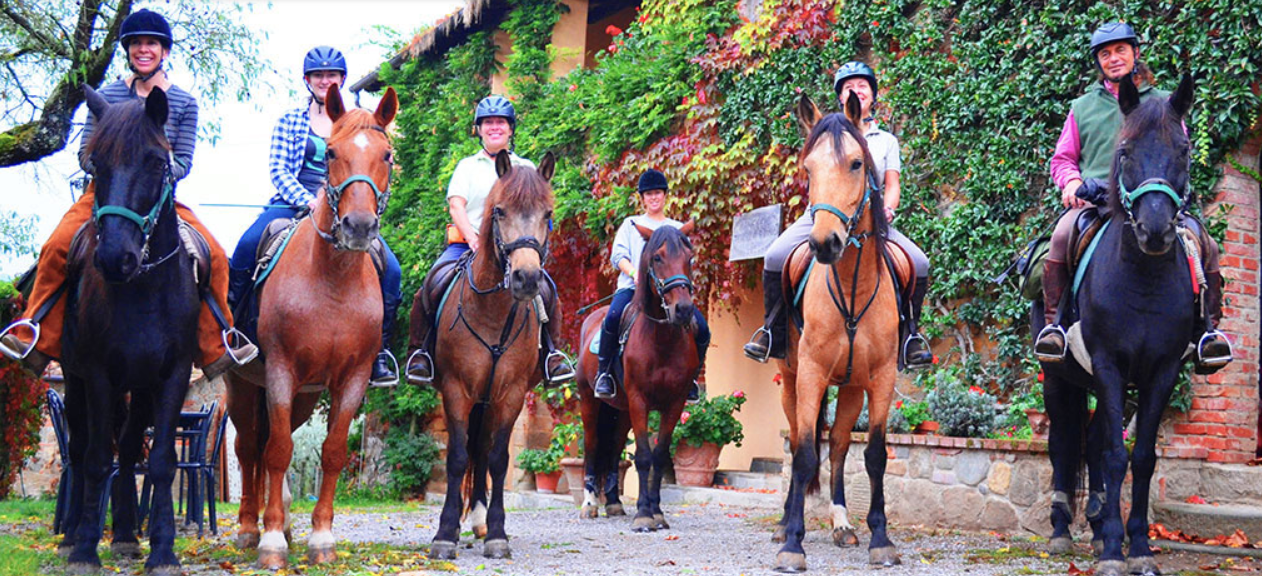 A Tuscan paradise where you can ride, cycle, walk, sightsee or simply relax with a glass of Chianti wine…. We had a chat with Mrs Jenny Bawtree, welcoming us in her amazing accommodation..

Can you tell us something about the start of your accommodation ? When did you start ? Did You had any previous experiences in hospitality business ?
My name is Jenny Bawtree, though most people call me simply 'Jenny' as they find my surname diffficult both to spell and pronounce! Having obtained a degree in foreign languages at Oxford University I came to live in Florence, Italy in the sixties to teach English. However after a few years I decided that I wanted to live in the Tuscan countryside. I went to live in the Chianti hills and founded Rendola Riding, a riding-centre with a difference: not a snobby establishment as others at that time were, but one in which people from all walks of life would feel welcome, as long as they loved horses and the countryside as much as I did.
At first we did not intend to have people to stay but soon we had many requests and founded one of the first 'agriturismi' in Italy, a farm where people could come and enjoy a holiday, whether or not they were riders.
Fifty years later Rendola Riding, while remaining a small concern, is much loved by guests (Jenny calls them guests, not clients) from all over the world.
Are your guests mostly European? Mostly Italian? What kind of guests do you attract?
At first we had mainly Italian guests, later our riding holidays attracted mainly riders from the British Isles and North America. More recently we have had guests from other parts of Europe, especially Holland, Germany and Scandinavia.They are generally people who love the quiet of the countryside, whether they like walking, riding or simply sitting in the garden with a book and a glass of Chianti wine…
Our guests stay in a small farmhouse, home to Jenny and her son Nicholas, editor of an ecological magazine. At their disposal there are six bedrooms, most of them rather small, but cheerful and pretty with traditional furniture and private bathrooms. There is a comfortable sitting room with a log fire lit in the winter and a dining room where guests can sit together at a long table with plenty of merriment as well as good food and wine. No problem if you are single, as here you will feel cherished and will make new friends- or stay by yourself if you prefer.
Rendola is not for people looking for elegance. Hens peck around the house, horses wander in the olive groves around the house, our labrador Miranda greets you on your arrival and you may find Catkin, one of the cats, curled up on an armchair. The house is after all a family home, with books spilling out of the shelves and a chess game in progress on the sitting room table. But this is why our guests feel at home here and often come back again and again.

What is unique about your location? Why would people choose to stay there? What authentic local experiences will guests have access to?
Many of Rendola's guests come here to ride, as the farmhouse is surrounded by the typical vineyards, olive groves and woodland of the Tuscan countryside. For those, however, who prefer to walk there are also waymarked trails in every direction.  Not all our guests are keen on physical activity and are more interested in Italian art and architecture: as Rendola Riding is in the centre of 'the golden triangle' formed by Florence, Siena and Arezzo, it is an ideal place for those who want to visit these art-cities but prefer to return to the peace of the countryside in the evenings.
It is also next to the famous Chianti Classico region, famous for its beautiful landscape and opportunities for wine-tasting. There are also lesser-known attractions, such as the Casentino valley rich in historical buildings and natural beauty, the rose-gardens of Cavriglia (the largest in Europe), the fossil museum of Montevarchi and the Romanesque church of Gropina with its animal carvings and ninth-century pulpit.
What is the best time to visit your area?
Certainly spring and autumn, that is to say from March to June and then from September to November. Jenny's favourite months, however, are May and October.
Do you offer arrangements for your guests to visit the area?
I am not an art historian, but I am  passionately interested in medieval and early Renaissance art. It brings me happiness to lend my guests guidebooks of the area and also to act ide if requested. Most guests bring their own cars but there is an efficient train service to most art-cities. (Rendola can offer transfers in a minivan to the local station at Montevarchi, only ten minutes away.)
Are there any typical meals guests should try when visiting your region?
Well, quite a lot of them are served at Rendola! However they should avoid  sophisticated cuisine, as typical Tuscan cooking is based on simple but high-quality ingredients, such as extra-virgin olive oil, Tuscan bread, Chianti wine, home-grown vegetables, salamis of various kinds. Typical dishes could be: ribollita, pappa al pomodoro, arista con patate al rosmarino, panello all'uva (made using wine-grapes), risotto al Chianti – and then of course the famous but very expensive bistecca fiorentina (not to be confused with 'bistecca alla fiorentina', which is not made with the traditional Chianino meat).
Are you planning new services or activities in the next months or years to come?
For years me  and my colleague Eraldo have organized weeklong riding programmes with specific dates  which in part can be enjoyed by non-riders: one traditional programme, 'Discover Tuscany', combines riding with guided visits of cultural interest. This year we offered also 'Inside Tuscany' which combines riding with gastronomy!
Next spring we are starting a new programme with art-lovers in mind, 'Tuscany and Fresco-hunting', which  includes guided visits to the most famous frescoes in Tuscany. These programmes are my favourite activities as I enjoy giving my guests a good time while also teaching them something about the Tuscan culture is something I am passionate about.
Are there any trends you see emerging in travel industry ? Something which was unexisting or less important before ?
When people come to Italy for the first time it is natural that they should go to see Venice, Florence, Rome, often spending not more than two days in each place. It's when they come back to Italy, if they can, that they want to see smaller places and they want to avoid the great crowds that to some extent spoil their first experience of our country. They begin to realize tht they will never be able to see ALL, so they should try to see just some of it BETTER. This is where a place like Rendola has a role: myself  and my  colleagues want people to see BETTER.  I thin that there is definitely a trend leading towards that goal.
Have new technologies affected how guests can interact with you?
To tell the truth, I haven't a great fondness for internet, and i am  highly allergic to Facebook, Tweets and Instagram, a reaction which is instinctive but probably unwise from the business point of view. This may be a generational problem as I rather regret the old times – only fifty years ago – when people used to book by telephone. When I  got a Fax machine she thought I was being madly modern… However, that said, although word of mouth is our best propaganda a lot of people make their first approach to Rendola through Internet and we  keep in contact through emails with clients who over the years have become friends.
Thanks for your time Jenny !
Homepage : www.rendolariding.com
E-mail : rendolariding@gmail.com
Phone : (+39) 055 9707045