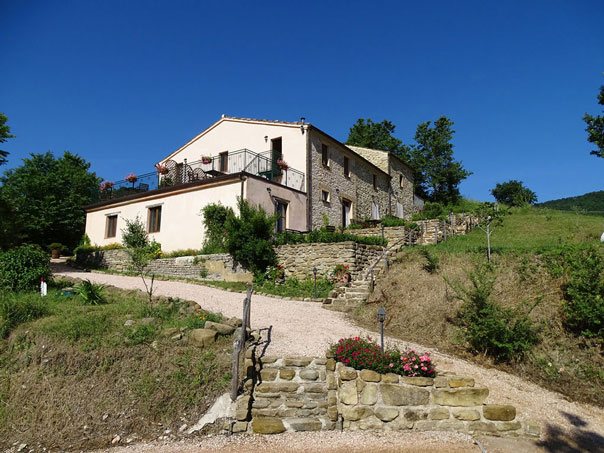 We had a nice meeting with Eric and Nanja Helmers, the owners of Agriturismo Carincone in Le Marche, Italy.
Dear Eric, can you tell us something about the start of your accommodation ? When did you start ? Did You had any previous experiences in hospitality business ?
In 2006 we emigrated to Italy and bought and old ruin. The house was and old farmhouse but was abandoned for the last 40 years. We took care of the biggest part of the restoration, only the electricity and the gas was done by a certified person. We did not have any experience in tourism or holiday rentals.
Your guests are mostly European ? Mostly Italian ?
90% of our guests are Dutch (we are also Dutch), and 10% is mixed from Italy, England, Germany, Denmark etc.
What type of guests do you attract ?
People who enjoy the quietness and nature. Who like to go hiking or just come here to relax and read a book or enjoy the view. Mainly people who don't like mass tourism and searching for undiscovered places.
How many rooms do you offer ?
We have 5 apartments that are fully equipped, there is a kitchen where people can prepare their own meals, a bathroom and a bedroom.


What is unique about your hotel's location? Why would people choose to stayyou're your neighborhood? What authentic local experiences will guests have access to?
The location of our agriturismo is unique because it is situated in the middle of nature, the only sounds you will here is is from nature, birds, deers etc. and sometimes the howling of wolves. Fromout the house there a hikingpaths to walk and you can mountainbike here. In the villages there are a lot of beautifull architectural buildings and splendid views. There are also some very old cathedrals, churches and crypts to visit. There are also the Grotte di Frassasi (very beautiful, large caves that are discovered in 1971!)  The Apennine mountains are nearby (about 20km) and the Adriatic coast is also not very far (about 35 km). So guests can do a lot of different things and plan their days like it suits them best.
When is the best time to visit your area?
Our agriturismo is open from April until October. June is a very beautfull month because nature is coming to life, there are a lot of different kinds of butterflies and at night you can see the fireflies. At the end of September and in October the forests chance their colours, that is also a beautifull experience. Every season has its own charms
Do You offer arrangements to your guests to visit the area ?
No, we like to leave our guest free to make their own choices, but we are always willing to provide them with the information that they are interested in.
Any funny stories about running this accommodation ?
Every guest is different, we have made some real friends over the years.
Is there any typical meal guests should try when visiting your region ?
Yes, there are some typical meals specifically in this region of Le Marche, for example cresce, some type of pancake (not sweet) that is prepared on something like a barbecue and people eat that with prosciutto, cheese and some vegetables. Here we have filled and fried olives, and in this region truffles are found so there are a variety of dishes with truffles. At the end of October there is always a festival dedicated to the truffle. Of course there is wine from the region and a very special type of drink that is something between a sweet red wine and liquor and is made from cherries.
Are You planning new services or activities in the next months or years to come?
Yes we have some plans…We will let you know later on..
What's your favourite holiday destination ?
This kind of business does not leave us much time for holidays, but we like to discover other places in Italy.
What is your favourite part of your job / activity?
The interaction with our guests and making sure that they have a lovely holiday here.
Are there any trends you see emerging in travel industry ? Something which was unexisting or less important before ?
We notice that people intent to book their holiday at the well-known businesses. But it can be very surprising what you can find if you book your holiday directly with the owner of the business. I like also to inform the guest as best as I can, and sometimes the great and well-known platforms only like to make a booking and do not provide the guest with further information.
Have new technologies affected how guests can interact with you?
Yes, and it helps us on daily basis to run our business and give the best possible service to our clients or potential guests
Is it possible to use public transport to come to your accommodation?
No, a car is recommended.
Any other particular information which is interesting about your property ?
Yes, we have 5 apartments, but every apartment has its own theme. And together it is the theme of live. So we have apartment 'Terra', 'Aria', 'Fire', 'Acqua' and the last one is 'Sole&Luna'. Every apartment is decorated in the specific colors of the theme. From the color of the furniture, the bedlinen, the towels, but also the plates, cutlery, glasses, pots and pans etc. In the bathrooms we have taken extra care to express the theme with handmade mosaic work. Every apartment is unique, not only in colors, but also in size and situated in the building.
Every apartment has a own private terrace with sun loungers, a table and chairs a parasol etc. (we also provide the guests with free towels for the sun loungers), Around the building there are lots of places where people can sit in the sun or shade and enjoy the view. There is also a swimming pool with sun loungers. And a barbecue place. People really enjoy the peace and quiet here, and a most common response of our guests is: you can hear the silence!
Thank you very much for your time !
Interested to stay at Agriturismo Carincone ?
Website : www.carincone.nl
Tel : +390721730399