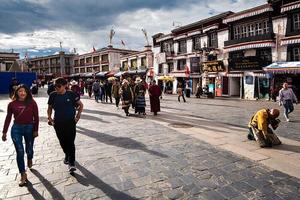 Located in the west of China, Tibet is always the ultimate dream travel place for tourists either from home or abroad. Crowned as a holy site for Tibetan Buddhism believers, Tibet has hosted millions of travelers by its stunning natural views and unique traditional Tibetan culture. According to the latest news issued by ​the Commission of Tourism Development of Tibet Autonomous Region, Tibet has received ​29025​0​ international travelers from January to ​October in 201​8​. Compared with the same period of last year, the number of tourists has increased​ ​​8 percent. The record of the number of ​international ​travelers is updating year by year​ with an increasing ratio from 5% to 10%​.
​For domestic travelers, just take the data issued by this official commission last year as an example: the number in 2018 was about 25 million;​ Until now, the number has increased by 5 million, which means that ​the increasing ratio is at least 20%. Tibet tourism has a bright future. What's more, this year (from January to ​October), the revenue of Tibet tourism industry has over 44 billion yuan, and it increases nearly 29.8 percent.
In order to improve the development of Tibetan tourism, the government in Tibet has issued a document about budget Tibet winter tour. According to the document, travelers can visit partial Tibetan attractions for free from November 1 to March 15, 2019. All the attractions above three- star-level can be free to visit (Tibetan temples and monasteries are excluded). Besides, the fare of the​ train or air ticket, tour guide, vehicles, accommodation, etc will have a dramatic discount. Therefore, planning a Tibet tour​ ​​at this time​ can save a lot of money.​
The construction of transportation to Tibet has a rapid development, which is another main reason for quickening the pace of the arrival of the booming Tibet tourism. In the past, for travelers who got to Tibet from the mainlands of China, they could only take the direct flight in several cities. For travelers who entered Tibet from Nepal, they could only take the flight or overland tour. But at present, ​many tourists can take the train through Qinghai Tibet Railway​ to Tibet​, ​also the air routes extended to many Chinese cities, such as Beijing, Shanghai, Xi'an, Xining, Chengdu, Lanzhou, Guangzhou, and Chongqing.
​I​n the future, there will be a railway connecting Kathmandu to Shigatse together, which will be another popular way for travelers to travel to Tibet from Nepal. Based on the latest news, the Zhangmu Port between Nepal and Tibet will be opened again under the effort of Nepalese and Chinese governments​, which will surely drive the development of Tibetan tourism. ​ ​​In 2025, another Sichuan Tibet ​ Railway will be completed.
​So you may see, millions of people are flowing to Tibet, to discover this Buddhism land or find great opportunities. If you are interested in visiting Tibet, Great Tibet Tour can arrange all kinds of Tibet tour package for you.
Great Tibet Tour has a team of Tibet travel experts with the majority being local born Tibetans who handpick the best things to do in destinations around Tibet. Ever since 2005, we've designed and operated tours in Tibet from standard Lhasa City Tours to the adventurous Tibet Trekking Tours. To ensure the tours you book on Great Tibet Tour deliver the type of experience we know you want to have – a once in a lifetime experience – we've sought out the most reputable and reliable local guides, hotels, restaurants, and transportation companies throughout Tibet. This comprehensive insider access, possessed only by locals, we live here, we know Tibet.
Read more: http://www.digitaljournal.com/pr/4047741#ixzz5YvxPX8wH